How to tell if a book is in stock...
"On Our Shelves Now" means yes, we have it on hand, order away!
"Ships in 1-5 days" means we sold our last copy, but more are easily available so still, order away!!
"Special Order" means it may be out of print or hard to get. Call the store to get more information from a Bookseller.

Not sure and want to double check? Be Savvy! Call and ask one of our booksellers for more details.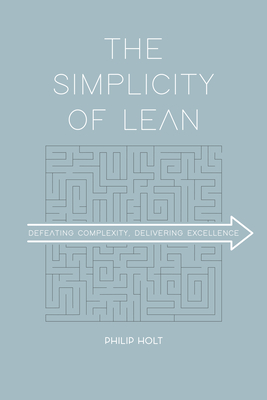 $29.99
Usually Ships in 1-5 Days
Description
---
2020 Axiom Business Book Awards Bronze Medal Winner
Lean organisations seem to work in a simple manner and operate with an innate calmness. They have removed much of the complexity that inhibits the performance of other companies, but achieving this level of simplicity is not easy. In
The Simplicity of Lean
, Philip Holt provides a comprehensive handbook of the Lean principles, presented in an accessible and easy to apply manner.
The Simplicity of Lean is a step-by-step guide to the Lean Thinking that makes your organisation more efficient and effective. The book offers the necessary context of how to apply Lean Thinking to make your Lean Transformation successful. Alongside the theory and the practical application of Lean, Philip also shares his personal insights and experiences, as well as individual success stories (and failures) from various Lean leaders from across the world.
The Simplicity of Lean is the perfect guide to make your Lean journey a resounding success.
Philip Holt is Senior Vice President, Global Transformation, at GKN Aerospace and a Board Member of the Operational Excellence Society. He studied Engineering at Manchester Metropolitan University and Management at the Wharton School of Pennsylvania and the University of Warwick, was an engineer at Gillette and led the Lean Deployment worldwide at Philips for over twelve years. He achieved Lean Master status and has summarised his 30+ years of experience and insights into Lean Leadership in his previous book Leading with Lean and his most recent book, The Simplicity of Lean.
About the Author
---
Philip is currently Senior Vice President, Global Transformation at GKN Aerospace, the world's leading multi-technology tier 1 aerospace supplier. He was formerly Vice President, Continuous Improvement at Travelport, a leading Travel Commerce Platform, and prior to that held a number of senior Lean Leadership roles with Royal Philips, most notably Head of Continuous Improvement for Philips, Head of Continuous Improvement for the Consumer Lifestyle sector, and Head of Operational Excellence, Accounting Operations. Philip was the lead author of the Philips Lean Excellence Model. Philip has over 30 years of business experience in leadership roles spanning the customer value chain, in Industry Leading Companies such as GKN Aerospace, Philips, Gillette, and Travelport. During this time he has built up an impressive reputation in Lean Leadership practice and is a regular speaker at industry conferences. He studied at Manchester Metropolitan University, Warwick Business School, and the University of Pennsylvania (Wharton School). The Simplicity of Lean: Defeating Complexity; Delivering Excellence is his second book, following on from the success of Leading with Lean: An Experience-based guide to Leading a Lean Transformation.
The Simplicity of Lean: Defeating Complexity, Delivering Excellence (Paperback)