How to tell if a book is in stock...
"On Our Shelves Now" means yes, we have it on hand, order away!
"Ships in 1-5 days" means we sold our last copy, but more are easily available so still, order away!!
"Special Order" means it may be out of print or hard to get. Call the store to get more information from a Bookseller.

Not sure and want to double check? Be Savvy! Call and ask one of our booksellers for more details.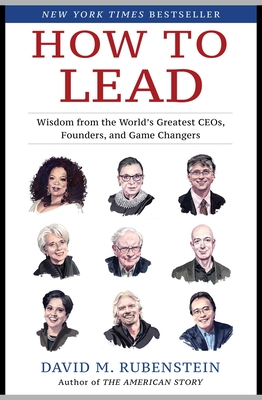 Description
---
The New York Times Bestseller
#1 Wall Street Journal Bestseller

The essential leadership playbook. Learn the principles and guiding philosophies of Bill Gates, Jeff Bezos, Ruth Bader Ginsburg, Warren Buffett, Oprah Winfrey, and many others through illuminating conversations about their remarkable lives and careers.

For the past five years, David M. Rubenstein—author of The American Story, visionary cofounder of The Carlyle Group, and host of The David Rubenstein Show—has spoken with the world's highest performing leaders about who they are and how they became successful. How to Lead distills these revealing conversations into an indispensable leadership guidebook.

Gain advice and wisdom from CEOs, presidents, founders, and master performers from the worlds of finance (Warren Buffett, Jamie Dimon, Christine Lagarde, Ken Griffin), tech (Jeff Bezos, Bill Gates, Eric Schmidt, Tim Cook), entertainment (Oprah Winfrey, Lorne Michaels, Renee Fleming, Yo-Yo Ma), sports (Jack Nicklaus, Adam Silver, Coach K, Phil Knight), government (President Bill Clinton, President George W. Bush, Ruth Bader Ginsburg, Nancy Pelosi), and many others.

-Jeff Bezos harnesses the power of wandering, discovering that his best decisions have been made with heart and intuition, rather than analysis.
-Richard Branson never goes into a venture looking to make a profit. He aims to make the best in field.
-Phil Knight views Nike as a marketing company whose product is its most important marketing tool.
-Marillyn Hewson, who grew up in a fatherless home with four siblings in Kansas, quickly learned the importance of self-reliance and the value of a dollar.

How to Lead shares the extraordinary stories of these pioneering agents of change. Discover how each luminary got started and how they handle decision making, failure, innovation, change, and crisis. Learn from their decades of experience as pioneers in their field. No two leaders are the same.
About the Author
---
David M. Rubenstein is the New York Times bestselling author of How to Lead and The American Story. He is cofounder and co-executive chairman of The Carlyle Group, one of the world's largest and most successful private equity firms. Rubenstein is Chairman of the Boards of Trustees of the John F. Kennedy Center for the Performing Arts and the Council on Foreign Relations. He is an original signer of The Giving Pledge and a recipient of the Carnegie Medal of Philanthropy and the MoMA's David Rockefeller Award. The host of The David Rubenstein Show on Bloomberg TV and PBS, he lives in the Washington, DC area.
Praise For…
---
"A wonderfully entertaining book about leaders from very different professions and walks of life. David Rubenstein's dialogues with individuals as different as Jeff Bezos and Yo-Yo Ma skillfully evoke their personal life stories and the qualities that led to their success. Above all, Rubenstein discerns the attributes of leadership they all have in common. How To Lead is an exceptionally instructive and inspirational book."
—Robert M. Gates, former U.S. Secretary of Defense, author of the #1 New York Times Bestseller Duty

"In these fast-moving, often tumultuous times, wise and effective leadership is critical. David Rubenstein's How To Lead provides a compelling view into how legendary leaders are made. This is required reading for today's leaders looking to up their game—and future leaders looking to enter the arena."
—Sheryl Sandberg, COO of Facebook and founder of LeanIn.Org and OptionB.Org

"Leadership is not a science but an art, and the wonderful David Rubenstein has convened a Louvre-like gathering of masters in the engaging and illuminating How to Lead. From statecraft to sports, this is an invaluable book about the things that matter most."
—Jon Meacham, New York Times bestselling author of The Soul of America

"David Rubenstein deftly distills the key qualities of effective leadership while treating the reader to a feast of his inimitable interviews with many of our nation's most accomplished leaders, How to Lead is a gripping compilation of intimate and fascinating conversations peppered with powerful lessons in how to compete and thrive in the most demanding environments."
—Susan E. Rice, Former U.S. Ambassador to the United Nations and National Security Advisor

"It's time to add David Rubenstein to the roster of master interviewers like Bill Moyers, Lesley Stahl, Anderson Cooper and Jim Lehrer. Rubenstein persuades two dozen prominent Americans to tell the inside stories of how they rose to power and leadership. Fascinating tales at a snappy pace — and a fresh reminder that we still have real leaders in our midst."
—David Gergen, CNN Senior Analyst; Founding Director, Center For Public Leadership, Harvard Kennedy School

"David Rubenstein is an expert on leadership. Reading this invaluable trove of advice from the greatest leaders of our time is like sitting in an armchair and listening to the masters reveal their secrets."
—Walter Isaacson, #1 New York Times Bestselling author of Leonardo da Vinci and Steve Jobs

"Rubenstein wants readers to see the full spectrum of assets and liabilities in leaders."
–Forbes

"Rubenstein shares his unparalleled access to many influential leaders, using his stature and experience to provide insights otherwise unavailable to many....An introduction launches into Rubenstein's ruminations on life; his 12 attributes of leadership, from luck and focus to failure and integrity; plus his belief that real success occurs during the second and third "thirds" of life on earth....Readers will want to keep a pen handy: "Most of our regrets are acts of omission" (Jeff Bezos). "Your legacy is every life that you've touched" (Oprah). "Data is actually sexist" (Melinda Gates). "If you're willing to make the trade-offs that you need to make, you can have it all" (Indra Nooyi). Words for life."
—Booklist, starred review
How to Lead: Wisdom from the World's Greatest CEOs, Founders, and Game Changers (Hardcover)