How to tell if a book is in stock...
"On Our Shelves Now" means yes, we have it on hand, order away!
"Ships in 1-5 days" means we sold our last copy, but more are easily available so still, order away!!
"Special Order" means it may be out of print or hard to get. Call the store to get more information from a Bookseller.

Not sure and want to double check? Be Savvy! Call and ask one of our booksellers for more details.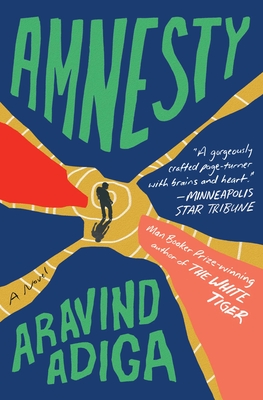 Staff Reviews
---
Written over the course of a single day was a brilliant choice.  A young immigrant in Australia finds himself between the ultimate rock and hard place when he ends up in the middle of a murder inquiry - though invisible to the authorities. It takes all day and travel from one end of Sydney and back again for Danny to come to a decision that will affect the rest of his life.
— Casey
Description
---
An "urgent and significant book [that] speaks to our times" (The New York Times Book Review) from the bestselling, Man Booker Prize–winning author of The White Tiger and Selection Day about a young illegal immigrant who must decide whether to report crucial information about a murder—and thereby risk deportation.

Danny—formerly Dhananjaya Rajaratnam—is an illegal immigrant in Sydney, Australia, denied refugee status after he fled from Sri Lanka. Working as a cleaner, living out of a grocery storeroom, for three years he's been trying to create a new identity for himself. And now, with his beloved vegan girlfriend, Sonja, with his hidden accent and highlights in his hair, he is as close as he has ever come to living a normal life.

But then one morning, Danny learns a female client of his has been murdered. The deed was done with a knife, at a creek he'd been to with her before; and a jacket was left at the scene, which he believes belongs to another of his clients—a doctor with whom Danny knows the woman was having an affair. Suddenly Danny is confronted with a choice: Come forward with his knowledge about the crime and risk being deported? Or say nothing, and let justice go undone? Over the course of this day, evaluating the weight of his past, his dreams for the future, and the unpredictable, often absurd reality of living invisibly and undocumented, he must wrestle with his conscience and decide if a person without rights still has responsibilities.

"Searing and inventive," Amnesty is a timeless and universal story that succeeds at "illuminating the courage of displaced peoples and the cruelties of those who conspire against them" (Star Tribune, Minneapolis).
About the Author
---
Aravind Adiga was born in India in 1974 and attended Columbia and Oxford universities. He is the author of the novels Amnesty; Selection Day, now a series on Netflix; The White Tiger, which won the Man Booker Prize; and the story collection Between the Assassinations. He lives in Mumbai, India.
Praise For…
---
The Millions, Vulture, LitHub, and Buzzfeed's Most Anticipated of 2020

The New York Times Most Anticipated of February 2020

"I like to read Adiga's novels almost as much as the poet James Dickey liked to drink. He has more to say than most novelists, and about 50 more ways to say it… Adiga is a startlingly fine observer, and a complicator, in the manner of V.S. Naipaul… Reading him you get a sense of having your finger on the planet's pulse… This novel has a simmering plot…[but] you come to this novel for other reasons, notably for its author's authority, wit and feeling on the subject of immigrants' lives… Keep reading."
—The New York Times

"Searing, inventive ... Amnesty is Adiga's most accomplished novel yet, a gorgeously crafted page-turner with brains and heart, illuminating the courage of displaced peoples and the cruelties of those who conspire against them."
—Hamilton Cain, The Minneapolis Star Tribune

"What makes Amnesty an urgent and significant book is the generosity and the humanity of its vision. The abstract issue of immigration, fodder for cheap politics, comes starkly alive in the story of this one man, his past troubles and his present conflict. Amnesty is an ample book, pertinent and necessary. It speaks to our times."
—Juan Gabriel Vasquez, The New York Times Book Review

"Adiga shines when documenting the ways in which immigrants are marginalized by those who claim to care about them... Amnesty succeeds in wrenching attention toward systemic injustice."
—Kristen Millares Young, The Washington Post

"A universal story with particular relevance and urgency today."
—Parade

"A near-hallucinatory guided tour of Australia's largest city as observed by an endearing oddball who, out of necessity, keeps to the shadows… In fresh and playful prose…Adiga places you smack in the middle of Danny's buzzing mind… With its pleasurably off-kilter sympathies and style, Amnesty compellingly captures Danny's tricky plight."
—Michael Upchurch, The Seattle Times

"Adiga is one of the great observers of power and its deformities, showing in novels like his Booker Prize winning White Tiger and Last Man in Tower how within societies, the powerful lean on the less powerful, and the weak exploit the weaker all the way down. Telling the tale of Danny's immigration along the story of one tense day, he has built a forceful, urgent thriller for our times."
—John Freeman, Lit Hub Executive Editor

"In all of its minutiae and incredible detail, these pages call attention to the real heartbreak of undocumented people who dream of a better existence ... the writing is beautiful (at times lyrical)."
—Jennifer Forker, The Associated Press

"A work of deeply consequential fiction."
—BookPage, starred review

"Like Valeria Luiselli in Lost Children Archive, Adiga bears witness to the disruption, pain, and hardship inherent in needing to leave one's country and find refuge elsewhere. Highly recommended."
—Library Journal, starred review

"In this smart twist on a classic whodunit, Danny, undocumented and working as a house cleaner in Sydney after fleeing Sri Lanka, has information about an unsolved murder. He must decide whether to stay silent—or come forward and risk deportation."
—VanityFair

"A taut, thrillerlike novel... A well-crafted tale of entrapment, alert to the risk of exploitation that follows immigrants in a new country." —Kirkus, starred review

"Engrossing...vivid...Adiga's enthralling depiction of one immigrant's tough situation humanizes a complex and controversial global dilemma."
—Publishers Weekly

"Scrutinizes the human condition through a haves-vs.-have-not filter with sly wit and narrative ingenuity... Adiga's smart, funny, and timely tale with a crime spin of an undocumented immigrant will catalyze readers."
—Booklist

"Adiga's facility for the cadence and vernacular of street talk and self-talk gives voice, literally, to figures that are often unheard."
—Shelf Awareness
Amnesty: A Novel (Paperback)