The Winemaker's Wife (Paperback)
How to tell if a book is in stock...
"On Our Shelves Now" means yes, we have it on hand, order away!
"Ships in 1-5 days" means we sold our last copy, but more are easily available so still, order away!!
"Special Order" means it may be out of print or hard to get. Call the store to get more information from a Bookseller.

Not sure and want to double check? Be Savvy! Call and ask one of our booksellers for more details.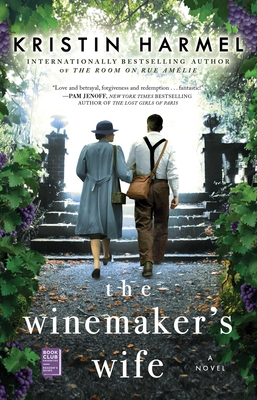 $16.99
Usually Ships in 1-5 Days
Description
---
The author of the "engrossing" (People) international bestseller The Room on Rue Amélie returns with a moving story set amid the champagne vineyards of France during the darkest days of World War II, perfect for fans of Heather Morris's The Tattooist of Auschwitz.

Champagne, 1940: Inès has just married Michel, the owner of storied champagne house Maison Chauveau, when the Germans invade. As the danger mounts, Michel turns his back on his marriage to begin hiding munitions for the Résistance. Inès fears they'll be exposed, but for Céline, the French-Jewish wife of Chauveau's chef de cave, the risk is even greater—rumors abound of Jews being shipped east to an unspeakable fate.

When Céline recklessly follows her heart in one desperate bid for happiness, and Inès makes a dangerous mistake with a Nazi collaborator, they risk the lives of those they love—and the vineyard that ties them together.

New York, 2019: Recently divorced, Liv Kent is at rock bottom when her feisty, eccentric French grandmother shows up unannounced, insisting on a trip to France. But the older woman has an ulterior motive—and a tragic, decades-old story to share. When past and present finally collide, Liv finds herself on a road to salvation that leads right to the caves of the Maison Chauveau.
About the Author
---
Kristin Harmel is the international bestselling author of a dozen novels including The Book of Lost Names, The Winemaker's Wife, The Room on Rue Amélie, and The Sweetness of Forgetting. Her work has been featured in People, Woman's Day, Men's Health, and Ladies' Home Journal, among many other media outlets. She lives in Orlando, Florida.
Praise For…
---
"Love and betrayal, forgiveness and redemption combine in a heady tale of the ever present past…fantastic!"
— Pam Jenoff, NYT bestselling author of The Lost Girls of Paris

"Engrossing... a suspenseful tale of betrayals personal and political, and of courage and sacrifice."
— Tampa Bay Times on The Winemaker's Wife

"With exceptional skill, Kristin Harmel constructs The Winemaker's Wife between the past and the present, giving equal weight and importance to both, all the while weaving a tale full of secrets and betrayals that puts to the test mankind's strength, fragility and vileness. Once you start reading this moving novel, you will not be able to put it down until you reach the last page."
— Armando Lucas Correa, bestselling author of THE GERMAN GIRL

"Written in heart-wrenching prose, THE WINEMAKER'S WIFE is a complex story of love, betrayal and impossible courage set in the champagne growing region of France during World War II. I couldn't turn the pages fast enough and savored every moment at the same time."
— Anita Hughes, bestselling author of Christmas in Paris

"What could be better than a story of champagne, secrets, lies, and history from a writer as compulsively readable as Kristin Harmel? Pick up this epic and heart-wrenching WWII tale immediately!"
— Alyson Noël, #1 New York Times bestselling author of SAVING ZOE

"Kristin Harmel is the best there is at sweeping historical drama intertwined with modern-day stories of real, relatable women you can't stop cheering for. In THE WINEMAKER'S WIFE, you'll fall in love with Ines and Liv, and wish you had a grande dame in your life like Edith, whose depiction is as perfect as her omni-present Kelly bag.

As you stay up late reading this novel of the French Champagne region in the midst of the second world war and the generations forever altered by those dark hours, keep a good supply of tissues close, not just for the reading of this gorgeous work, but for that moment when the story ends and your heart soars with the beauty of the telling."
— Kelly Harms Wimmer, bestselling author of The Overdue Life of Amy Byler

"The Winemaker's Wife is a beautifully told, atmospheric story about redemption, heartbreak, resilience, and courage. With evocative prose and a lush setting in a champagne winery, it reminds us of the power of secrets, and the lengths we will go to protect the ones we love."
— -Maureen Leurck, author of Cicada Summer and Monarch Manor

"Harmel's engrossing latest reminds us that love, like resistance, begins with courage."
— People on THE ROOM ON RUE AMELIE

"Set against all the danger and drama of WWII Paris, this heartfelt novel will keep you turning the pages until the very last word."
— New York Times bestselling author Mary Alice Monroe

"Reminiscent of The Nightingale and The Map of the Heart, Kristin Harmel's THE ROOM ON RUE AMELIE is an emotional, heart-breaking, inspiring tribute to the strength of the human spirit and the enduring power of love."


— NYTimes bestselling author Mariah Stewart

"The strong and courageous inhabitants of THE ROOM ON RUE AMELIE occupied all my time until the tender and powerful final pages. Beautifully written, Kristin Harmel's latest is an unforgettable exploration of love and hope during the darkest of moments."
— Amy E. Reichert, author of The Optimist's Guide to Letting Go

"Harmel writes a poignant novel based loosely on the true story of an American woman who helped on the Comet Line, which rescued hundreds of airmen and soldiers. This compelling story celebrates hope and bravery in the face of evil."
— Booklist

"Harmel injects new life into a well-worn story in this hopeful three-voiced tale about the struggle to find normalcy amid the horrors of WWII... Harmel's emotionally fraught story hammers home the message that each person has a unique opportunity to stand against injustice. This is a celebration of those, like Ruby, who found the courage to face life head-on."
— Publishers Weekly

"This book of historical fiction is also a surprising story of love, courage, and the resiliency of the human spirit....[Harmel] manages to draw her audience in, even to the point of unexpected tears at the story's end.."
— Jewish Book Council

"Harmel's latest novel overlaps somewhat with recent book club favorites Kristin Hannah's The Nightingale and Martha Hall Kelly's Lilac Girls… recommended for fans of World War II historical fiction."
— Library Journal

"Richly detailed and yet fast-paced, Harmel's story flows at remarkable depth, as ordinary citizens rise to the challenge of extraordinary circumstances in occupied France. A fascinating exploration of the escape routes set up for downed Allied pilots, readers will be swept up in this heart-wrenching drama."
— Juliette Fay, author of The Tumbling Turner Sisters

"A story of courage and love in unimaginable circumstances."
— bestselling author Barbara Taylor Sissel

"Harmel...authentically weaves American history into this engaging novel. An appealing family saga that connects generations and reaffirms love."
— Kirkus Reviews on WHEN WE MEET AGAIN

"Centering on a lesser-known facet of American history, WHEN WE MEET AGAIN is a gripping novel of history, art, and the power of love. Kristin Harmel's work is always riveting but her storytelling reaches new heights with a tale that is layered, complex, and satisfying to the last page."
— bestselling author Michelle Gable on WHEN WE MEET AGAIN

"Kristin Harmel writes with such insight and heart that her characters will stay with you long after you've finished her books."

— New York Times bestselling author Emily Giffin on THE SWEETNESS OF FORGETTING