How to tell if a book is in stock...
"On Our Shelves Now" means yes, we have it on hand, order away!
"Ships in 1-5 days" means we sold our last copy, but more are easily available so still, order away!!
"Special Order" means it may be out of print or hard to get. Call the store to get more information from a Bookseller.

Not sure and want to double check? Be Savvy! Call and ask one of our booksellers for more details.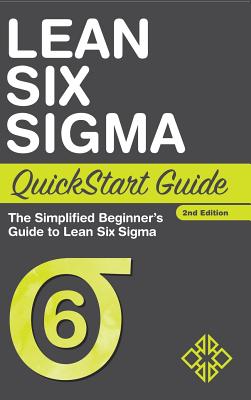 $23.99
Usually Ships in 1-5 Days
Description
---
Lean Six Sigma, Simplified
Amazon, General Electric, Motorola, Ford Motor Company, Bank of America, and a multitude of other organizations, large and small, have propelled themselves to greater success thanks to Lean Six Sigma. By leveraging the wisdom of the Lean Six Sigma methodology, organizations reduce waste, produce more streamlined and accurate processes, and yield greater revenues and wider profit margins.

The Lean Six Sigma QuickStart Guide was created for newcomers looking for an accessible, learn-and-go entry-point to this powerful methodology. Here you'll find Lean Six Sigma's secrets to customer satisfaction, error reduction, production and process uniformity, management and much more, all packaged and tailored for beginner-level accessibility.

In this best-selling QuickStart Guide, ClydeBank Business elegantly simplifies the technical components of Lean Six Sigma, making complex ideas clear and bridging the knowledge gap between expert and newcomer.
You'll Learn...
How and Why the "Lean" Methodology Merged with "Six Sigma" to Create a Powerful Best-Practices Hybrid that Revolutionized Business Production.
The Application of Lean Six Sigma Principles and Standards to Both Production and Managerial Strategy.
DMAIC, DMADV and Other Tools and Methodologies that Contribute to the Implementation of Lean Six Sigma.
The Most Common Mistakes Made by Lean Six Sigma Beginners
Much More
Lean Six Sigma QuickStart Guide: The Simplified Beginner's Guide to Lean Six Sigma (Hardcover)