The Iciest, Diciest, Scariest Sled Ride Ever! (Hardcover)
How to tell if a book is in stock...
"On Our Shelves Now" means yes, we have it on hand, order away!
"Ships in 1-5 days" means we sold our last copy, but more are easily available so still, order away!!
"Special Order" means it may be out of print or hard to get. Call the store to get more information from a Bookseller.

Not sure and want to double check? Be Savvy! Call and ask one of our booksellers for more details.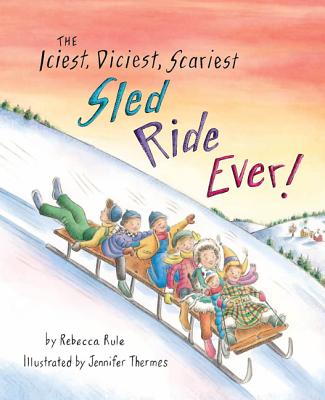 Description
---
What do seven kids do on a cold winter day when rain and sleet have created a thick crust of ice on top of the snow? It's so slick and icy that sledding seems impossible almost. Lizzie and her friends convince her grandfather to let them try to push his old-fashioned travis sled, a long, bench-like sled on runners, uphill so they can fly downhill, down the highest, mightiest, iciest sledding hill off Old Mountain Road. New Hampshire storyteller Rebecca Rule brings her trademark wry sense of New England humor to this delightful tale of a wild sled ride. Connecticut artist Jennifer Thermes's beautiful watercolors are so full of motion, you'll be holding on to your hats and scarves for this one.
About the Author
---
Rebecca Rule is the author of Live Free and Eat Pie! A Storyteller's Guide to New Hampshire and Headin' for the Rhubarb: A New Hampshire Dictionary (well, kinda). She is also the author of three short story collections about New Hampshire, including The Best Revenge, named Outstanding Work of Fiction by the New Hampshire Writer's Project. A graduate of the University of New Hampshire, she has taught writing classes there for a number of years. She has lived in New Hampshire all her life (so far). Jennifer Thermes is a children's book author and illustrator. In addition to being an avid reader, an obsessed gardener, and an adorer of cats, she creates illustrated maps for publishing and magazine clients. Her most recent book is Maggie & Oliver, or A Bone of One's Own, a middle-grade novel by Valerie Hobbs (Henry Holt Books for Young Readers). She is the author and illustrator of Sam Bennett's New Shoes and When I Was Built. Thermes lives in an old farmhouse in Connecticut with her family.
Praise For…
---
A young girl's first-person narration brings a New England sled ride to life.
But this isn't just any sled ride. Inspired by ice-crusted snow, Grampa Bud's yarns of his childhood and a giant homemade double-runner sled, seven friends set out to conquer the "highest, mightiest, iciest sledding hill." Rule lengthens out one sled run into an entire book, but its pace is not slow and clunky, nor does it drag. Instead, she marvels in the details along the way, building up the suspense. Comically, the children attempt to get themselves and the sled to the top of the hill, taking each other out like dominoes as they relentlessly and repeatedly slide down to form a pig pile at the bottom. When they finally manage it, Thermes beautifully conveys the awesomeness of the hill they have chosen to tackle; none of the kids will speak their fears aloud, though their faces say volumes. The trip down is accomplished in just a few spreads, a ride so fast that tears, fears, screams and laughter all get whipped, "like a beautiful scarf trailing wildly behind." The watercolors give a wonderful array of viewpoints, showing the path of the sled run as well as close-ups of the children: fresh-faced and having the time of their lives.
Parents beware: Children are likely to scout out the highest hill to try to replicate this amazing run. (Picture book. 4-8) --Kirkus Reviews

When an icy crust forms over the snow, Lizzie and her friends have one thing on their minds: sledding. Lizzie persuades her Grandpa Bud to lend her the homemade sled he used as a child ("We promised not to break ourselves"), and the children make the difficult climb up a slick, crusty hill of ice. Rule and Thermes gracefully depict the exhilaration of snowy play and the wisp of anxiety that comes as they gaze down the intimidating slope. There's a nostalgic air to the book; Lizzie's story reads like one that she'll pass down to later generations, just like Grandpa Bud's stories and his sled. Ages 4–8. (Nov.)--Publishers Weekly