How to tell if a book is in stock...
"On Our Shelves Now" means yes, we have it on hand, order away!
"Ships in 1-5 days" means we sold our last copy, but more are easily available so still, order away!!
"Special Order" means it may be out of print or hard to get. Call the store to get more information from a Bookseller.

Not sure and want to double check? Be Savvy! Call and ask one of our booksellers for more details.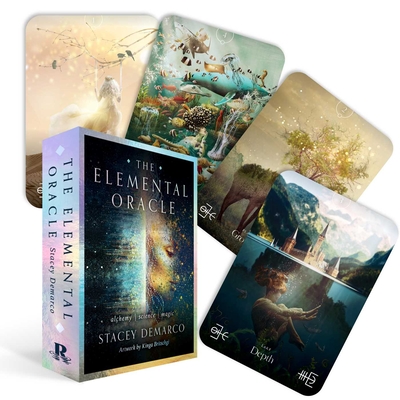 Please call 603-279-3905 for pricing
Description
---
You don't have to use your imagination to feel the power of alchemy and magic—they are potently available in the elements that surround you!
Our ancestors harnessed the powers of earth, air, fire, and water, and north, south, east, and west; these have been key parts of pagan and witchcraft traditions for millennia. Now it's your turn! Modern science has revealed active energies such as electricity, gravity, magnetism, atoms, and even the mysterious dark matter. All of these can be used within this oracle in alchemic magic.
All energies—from the smallest atom to the greatest solar power, from east to west, and from your own breath to fierce storms—are used here in these 44 stunning full-color cards. Combining the ancient key energies of the elements with science gives us a unique and authentic new way to work with them.
Each card features an ancient word of power from the Greek, Roman, Egyptian, Norse, or Celt traditions to enliven it.
About the Author
---
Stacey Demarco is one of Australia's highest profile and most trusted pagan practitioners. She is the founder of Natureluster, a movement to reconnect people with the power of nature. She is the author of several books and oracle decks, including the Queen of the Moon Oracle, the annual Lunar and Seasonal Diary, and The Elemental Oracle. Visit her at www.themodernwitch.com.

Kinga Britschgi is an award-winning Hungarian digital artist and illustrator. Kinga loves surrealism, magical realism, and dark whimsy, creating "story pictures"—figurative pictures with seemingly realistic elements that often result in surrealistic, mysterious images with lots of layers of meanings. She lives in the United States with her husband and son.
The Elemental Oracle: Alchemy Science Magic (Rockpool Oracle Card Series) (Kit)