How to tell if a book is in stock...
"On Our Shelves Now" means yes, we have it on hand, order away!
"Ships in 1-5 days" means we sold our last copy, but more are easily available so still, order away!!
"Special Order" means it may be out of print or hard to get. Call the store to get more information from a Bookseller.

Not sure and want to double check? Be Savvy! Call and ask one of our booksellers for more details.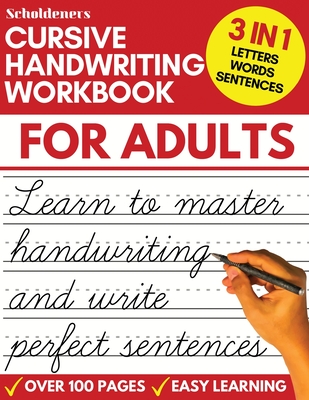 $19.97
Usually Ships in 1-5 Days
Description
---
From the trusted authority in handwriting and penmanship teaching comes the Cursive Handwriting Workbook for Adults.
Specially designed for adults, this 110-page comprehensive workbook features age-appropriate exercises that will take adults from beginning cursive to fluently writing sentences and paragraphs.
Words and sentences specifically selected for adults.
Forming Letters - Learn how to correctly form every letter of the alphabet - both uppercase and lowercase.
Joining Letters - Learn how to connect letters together correctly.
Practice words - Write a selection of words, which increase in complexity as you progress.
Write Sentences - Now you can confidently write full sentences and paragraphs using the skills you have learnt.
Building Mastery - Each section builds on the previous one until you are fluently writing in cursive.
Workbook details
8.5" x 11" - Large size provides plenty of room for writing inside.
110 pages - with more than 100 pages of writing exercises.
High-quality paper - 60gm.
From Scholdeners - the trusted name in writing education.
Made in the USA.
Cursive Handwriting Workbook for Adults: Learn Cursive Writing for Adults (Adult Cursive Handwriting Workbook) (Paperback)