How to tell if a book is in stock...
"On Our Shelves Now" means yes, we have it on hand, order away!
"Ships in 1-5 days" means we sold our last copy, but more are easily available so still, order away!!
"Special Order" means it may be out of print or hard to get. Call the store to get more information from a Bookseller.

Not sure and want to double check? Be Savvy! Call and ask one of our booksellers for more details.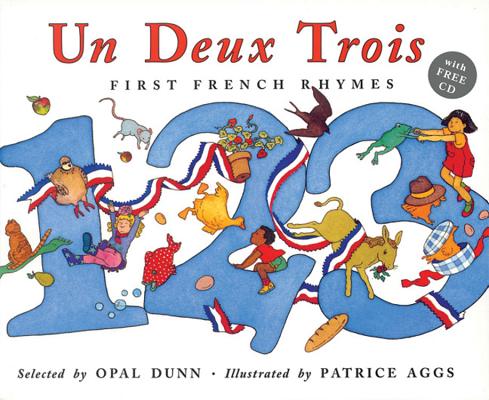 $9.99
Usually Ships in 1-5 Days
Description
---
Simple songs and rhymes are an excellent way to familiarize young children with another language. Un Deux Trois a collection of 25 traditional nursery rhymes, is a delightful way to introduce French. An illustrated vocabulary features simple words and phrases that are easy to learn and that can be used in games or everyday life. Children are encouraged to repeat the phrases and sing along with the rhymes, and the included CD lets them know how both should sound. The lively illustrations and amusing rhymes make learning a new language fun. A guide for parents translates more difficult phrases.
About the Author
---
Opal Dunn is widely known as a specialist in books on early first and second language development. She has been a consultant to the Council of Europe on children's bilingual education and acts as consultant to the British Council's LearnEnglish Parents programme. She has been short-listed for the Eleanor Farjeon award for services to children's literature and in 2008 received the Japanese Order of the Rising Sun for over 30 years work with bilingual Japanese children. Opal's books for Frances Lincoln are
Acker Backa Boo, El Gato Leo Goes to School, El Gato Leo Comes to Play, Leo le Chat Goes to School, Leo le Chat Comes to Play, Hippety-hop, Hippety-hay, Un Deux Trois
and
Number Rhymes to Say and Play.
She lives in South London.
PATRICE AGGS was born in Michigan and moved to London in 1974 to study Fine Art at the City and Guilds Art School. Patrice has illustrated over 20 books, five of them for Frances Lincoln, including Un, Deux, Trois by Opal Dunn and Uno, Dos, Tres by Yanitzia Canetti.
Un Deux Trois (Dual Language French/English) (Paperback)