How to tell if a book is in stock...
"On Our Shelves Now" means yes, we have it on hand, order away!
"Ships in 1-5 days" means we sold our last copy, but more are easily available so still, order away!!
"Special Order" means it may be out of print or hard to get. Call the store to get more information from a Bookseller.

Not sure and want to double check? Be Savvy! Call and ask one of our booksellers for more details.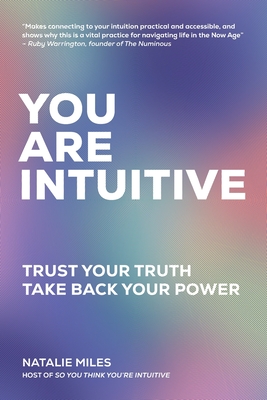 $19.99
Usually Ships in 1-5 Days
Description
---
Featured in Bustle, Refinery29, and Goop, internationally renowned psychic medium Natalie Miles brings you empowering and practical guidance about tapping into your own intuitive gifts.
Inspired by her hit podcast So You Think You're Intuitive, this insightful spiritual guidebook explores the connection we all have between our inner worlds and the collective consciousness of our communities.
Your intuition led you here. Trust it.
Some people label intuition as "woo-woo" or weird, but it's a gift we all have. You don't have to be "special" or "chosen." No matter who you are or what your higher power is, you were created with everything you need to connect with your truth. You just have to remember how.
Natalie Miles gives easy-to-follow exercises and practical advice about...
Invoking your Spirit Team (Spirit Guides, ancestors, deceased loved ones)
Trusting your inner guidance
Keeping a psychic vision or dream journal
What happens during your spiritual awakening
Healing the present moment
Personal growth and transformation
Shadow work
Discovering how you receive your intuitive gifts, like clairvoyance
Expressing your creative imagination
Empaths and energetic sensitivity
Overcoming blocks to your spiritual powers
This immersive book also includes meditations and visualizations for each chapter, set to binaural beats to aid your focus and intention.
Stand in your truth. Take back your power. Be a force for positive change. Scroll up and click "Add to Cart" to begin your journey inward
You Are Intuitive: Trust Your Truth. Take Back Your Power. (Paperback)