How to tell if a book is in stock...
"On Our Shelves Now" means yes, we have it on hand, order away!
"Ships in 1-5 days" means we sold our last copy, but more are easily available so still, order away!!
"Special Order" means it may be out of print or hard to get. Call the store to get more information from a Bookseller.

Not sure and want to double check? Be Savvy! Call and ask one of our booksellers for more details.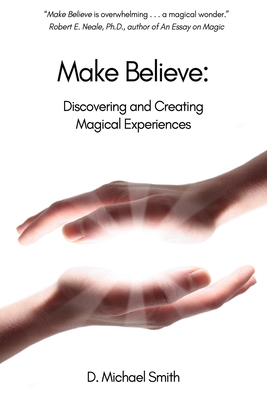 $22.00
Usually Ships in 1-5 Days
Description
---
In this collection of twenty-eight essays, D. Michael Smith, a retired pastoral/family psychotherapist and life-long magician, explores the meanings and implications of make-belief, imagination, creativity, play, wonder and the theatrical arts for magical performances. The essays, divided into three sections, explore the life enriching and entertaining psychologies, philosophies, and presentations involved in the "make-believing" art of performance magic.
In addition, the author fully describes and presents the scripts for his own close-up and stand-up presentations of three classics of magic: (1) "A Fantasy Vacation" (Scotch and Soda); (2) "Deeper Mystery Egg Bag" (Egg Bag); and (3) "A Whole Ball of Wax" (Gypsy Floss).
The book also includes a detailed reading list, as well as an appendix comparing and contrasting the world of imaginative make-believe with the autistic and realistic worlds, and an online link to a twenty-one page index of thirteen primaryl themes found in the major publications of magic philosopher, prolific writer, and creator of original origami and magic effects and stories.
Make Believe: Discovering and Creating Magical Experiences (Paperback)