How to tell if a book is in stock...
"On Our Shelves Now" means yes, we have it on hand, order away!
"Ships in 1-5 days" means we sold our last copy, but more are easily available so still, order away!!
"Special Order" means it may be out of print or hard to get. Call the store to get more information from a Bookseller.

Not sure and want to double check? Be Savvy! Call and ask one of our booksellers for more details.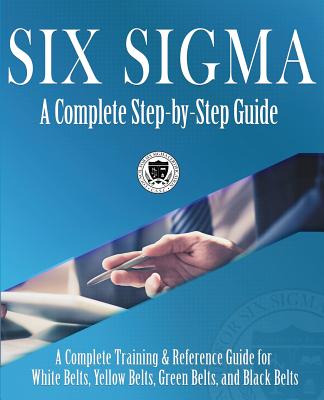 $59.95
Usually Ships in 1-5 Days
Description
---
What You Will Learn:
Whether you are looking to significantly boost your earnings by becoming Six Sigma Certified or are simply looking learn about the strategies and tools necessary to support quality improvement initiatives, this training manual offers the largest value available.
Who This Book is For:
Anybody looking to learn Six Sigma
Those seeking a Six Sigma Certification
Individuals Looking to Significantly Increase their Income
Individuals Looking to Stand-Out from the Competition
Companies Looking to Train Their Employees
What's Inside:
This comprehensive guide was designed with the reader in mind. Other Six Sigma books typically fall into one of two categories. Either the training material is too comprehensive (leaving the reader to feel overwhelmed) or the material is too "watered-down" (leaving the reader without the necessary knowledge to be successful).
Our guide strikes the perfect balance by providing as much depth as the reader would like. The material in our training guide is broken down into 4 areas. Units 1-2, provide an excellent introduction to Six Sigma and Lean Six Sigma as well as a brief overview of the methodology (ideal for White or Yellow Belt Certification).
Units 3-5, covers more advanced Six Sigma concepts in addition to beginner statistics and intermediate statistics, along with helpful guides for computing statistics with software like Excel & Minitab (ideal for Green Belt Certification). Units 6-8 dive further into advanced concepts and processes within the Six Sigma methodology (ideal for Black Belt Certification).
The remaining sections cover Six Sigma within specific industries, such as Six Sigma in Healthcare, Finance, Human Resources (HR), Information Technology (IT), Engineering, Marketing & Sales, Customer Service, Warehouse, Distribution, Manufacturing, Military/Defense, Government, and more.
No matter your experience or goal, this comprehensive guide has something for everyone.
Six Sigma: A Complete Step-by-Step Guide: A Complete Training & Reference Guide for White Belts, Yellow Belts, Green Belts, and B (Paperback)