How to tell if a book is in stock...
"On Our Shelves Now" means yes, we have it on hand, order away!
"Ships in 1-5 days" means we sold our last copy, but more are easily available so still, order away!!
"Special Order" means it may be out of print or hard to get. Call the store to get more information from a Bookseller.

Not sure and want to double check? Be Savvy! Call and ask one of our booksellers for more details.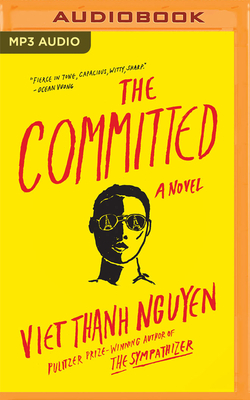 $29.99
Coming Soon - Available for Pre-Order Now
March 2021 Indie Next List
---
"In this sequel to The Sympathizer, Viet Thanh Nguyen (and his semi-nameless narrator) once again skewer multiple ideologies with caustic wit, philosophical gravitas, and broad historical understanding. A mix of organized crime and psychological and political thriller, this book offers action (and there is lots of action!) unfolding amidst piercing meditations on colonialism, national identity, and ethics. In other words, The Committed uses much the same recipe as its Pulitzer-winning predecessor and delivers a similarly gripping, enraging, smart, and bleakly funny tale."
— Annie Metcalf, Magers & Quinn Booksellers, Minneapolis, MN
Description
---
The long-awaited new novel from one of America's most highly regarded contemporary writers, The Committed follows the unnamed Sympathizer as he arrives in Paris in the early 1980s with his blood brother Bon. The pair try to overcome their pasts and ensure their futures by engaging in capitalism in one of its purest forms: drug dealing.
Traumatized by his reeducation at the hands of his former best friend, Man, and struggling to assimilate into French culture, the Sympathizer finds Paris both seductive and disturbing. As he falls in with a group of left-wing intellectuals whom he meets at dinner parties given by his French Vietnamese "aunt", he finds stimulation for his mind but also customers for his narcotic merchandise. But the new life he is making has perils he has not foreseen, whether the self-torture of addiction, the authoritarianism of a state locked in a colonial mindset, or the seeming paradox of how to reunite his two closest friends whose worldviews put them in absolute opposition. The Sympathizer will need all his wits, resourcefulness, and moral flexibility if he is to prevail.
Both literary thriller and novel of ideas, The Committed is a blistering portrayal of commitment and betrayal that will cement Viet Thanh Nguyen's position in the firmament of American letters.
This audiobook is a sequel to The Sympathizer.
The Committed (MP3 CD)