How to Build a Heart (Paperback)
How to tell if a book is in stock...
"On Our Shelves Now" means yes, we have it on hand, order away!
"Ships in 1-5 days" means we sold our last copy, but more are easily available so still, order away!!
"Special Order" means it may be out of print or hard to get. Call the store to get more information from a Bookseller.

Not sure and want to double check? Be Savvy! Call and ask one of our booksellers for more details.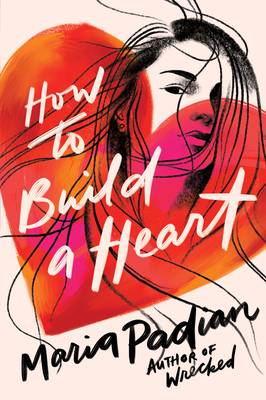 Description
---
Family isn't something you're born into — it's something you build.

One young woman's journey to find her place in the world as the carefully separated strands of her life — family, money, school, and love — begin to overlap and tangle. 

All sixteen-year-old Izzy Crawford wants is to feel like she really belongs somewhere. Her father, a marine, died in Iraq six years ago, and Izzy's moved to a new town nearly every year since, far from the help of her extended family in North Carolina and Puerto Rico. When Izzy's hardworking mom moves their small family to Virginia, all her dreams start clicking into place. She likes her new school—even if Izzy is careful to keep her scholarship-student status hidden from her well-to-do classmates and her new athletic and popular boyfriend. And best of all: Izzy's family has been selected by Habitat for Humanity to build and move into a brand-new house. Izzy is this close to the community and permanence she's been searching for, until all the secret pieces of her life begin to collide.

How to Build a Heart is the story of Izzy's journey to find her place in the world and her discovery that the choices we make and the people we love ultimately define us and bring us home.
 
About the Author
---
Maria Padian has a bachelor's degree from Middlebury College and a master's degree from the University of Virginia. She is a freelance writer, essayist, and author of young adult novels, including Brett McCarthy: Work in Progress, Jersey Tomatoes Are the Best, and Out of Nowhere. Maria lives with her family in Brunswick, Maine. Visit her online at mariapadian.com and find her on Twitter: @mpadian.
Praise For…
---
"Padian shows again and again that a story is always more complicated and more ordinary than it seems."
—The Bulletin of the Center for Children's Books

"Padian takes a familiar theme—a girl hiding her background from others—and makes it fresh with her protagonist, Izzy Crawford . . . The characters around her are well-defined and support Izzy and the plot well. Throughout the novel, Izzy's strength, candor, and humanity shine through."
—Booklist

"Padian creates a compelling world with relatable characters and deals with serious issues without feeling heavy-handed. An excellent classroom or book discussion starter. Hand this to readers who are ready to tackle these issues with a lighter touch."
—School Library Journal

"An absolutely enthralling depiction of family and self-discovery."
—Kirkus Reviews, starred review

"Padian creates a world that the reader can easily dive into. Anyone who's ever been a self-conscious teen will see themselves in Izzy."
—Book Riot