How to tell if a book is in stock...
"On Our Shelves Now" means yes, we have it on hand, order away!
"Ships in 1-5 days" means we sold our last copy, but more are easily available so still, order away!!
"Special Order" means it may be out of print or hard to get. Call the store to get more information from a Bookseller.

Not sure and want to double check? Be Savvy! Call and ask one of our booksellers for more details.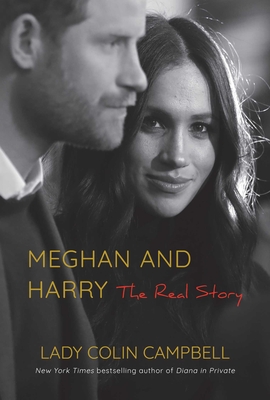 $27.95
Usually Ships in 1-5 Days
Description
---
**A Wall Street Journal bestseller**

This blockbuster narrative provides the first behind-the-scenes, authoritative account of the Duke and Duchess of Sussex's marriage, by the New York Times bestselling author of Diana in Private.

The fall from popular grace of Prince Harry, the previously adulated brother of the heir to the British throne, as a consequence of his marriage to the beautiful and dynamic Hollywood actress and "Suits star" Meghan Markle, makes for fascinating reading in this groundbreaking book from Lady Colin Campbell, who is the New York Times bestselling biographer of books on Princess Diana, the Queen Mother, and Queen Elizabeth's marriage.

With a unique breadth of insight, Lady Colin Campbell goes behind the scenes, speaking to friends, relations, courtiers, and colleagues on both sides of the Atlantic to reveal the most unexpected royal story since King Edward VIII's abdication. She highlights the dilemmas involved and the issues that lurk beneath the surface, revealing why the couple decided to step down as senior royals. She analyses the implications of the actions of a young and ambitious Duke and Duchess of Sussex, in love with each other and with the empowering lure of fame and fortune, and leads the reader through the maze of contradictions Meghan and Harry have created—while also evoking the Californian culture that has influenced the couple's conduct.

Meghan and Harry: The Real Story exposes how the royal couple tried and failed to change the royal system—by adapting it to their own needs and ambitions—and, upon failing, how they decided to create a new system—and life—for themselves.
About the Author
---
Lady Colin Campbell is the New York Times bestselling author of Diana in Private and The Untold Life of Queen Elizabeth, the Queen Mother. She divides her time between London and Castle Goring.
Praise For…
---
Praise for Lady Colin Campbell:

"The most believable Diana biography."
— People

"The most sensational book of the year."
— The Mail on Sunday

"Brilliant."
— The Literary Review

"I admire her; buy her book."
— Lynn Barber, author of An Education (the basis for the Academy Award-nominated film)

"It was Lady Colin who first put [all the revelations about Princess Diana] into print."
— The Sunday Times (London)

This insider look from royal biographer Lady Colin Campbell (bestselling author of books about Princess Diana) goes behind the scenes, revealing why the royal system refused to change for them, and why they created their own way forward.
— ADAM RATHE AND LIZ CANTRELL

Meghan and Harry:The Real Story is steeped in a more traditional, royalist perspective, and catalogues what her sources consider the couple's micro and macro aggressions against the crown—including claims of the couple's mistreatment of palace staff members, petulant demands, acts of self-defeat and self-interest, and scene-stealing ploys, such as announcing their split from the monarchy the night before Kate Middleton's birthday.
— Vanity Fair
Meghan and Harry: The Real Story (Hardcover)