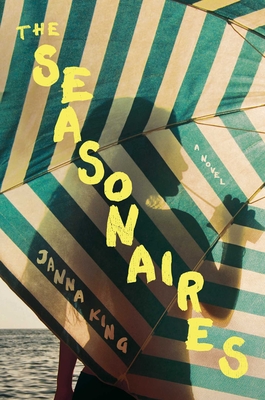 Other Books in Series
This is book number 1 in the The Seasonaires series.
Description
---
Inspired by this deceivingly heady atmosphere, acclaimed screenwriting talent makes her fresh and thrilling debut with The Seasonaires. An idyllic Nantucket summer begins like a dream for Mia, Presley, Weston, Jade, J.P., and Grant who are working as seasonaires for the clothing brand Lyndon Wyld. But like all things that look too good to be true, the darkness underneath slowly rises to the surface. Lyndon Wyld, the chic British tigress who owns the eponymous business, rules their daily life by curating their every move, which they are obligated to post on social media for throngs of followers. When corporate greed, professional rivalries and personal conflicts are mixed with sex, drugs, and the naiveté of youth, the results are explosive as a murder sullies their catalog-perfect lives.
About the Author
---
Janna King is a screenwriter, playwright, and director. She has written TV movies and series for Lifetime and The Hallmark Channel, King World, and more. Her two short films, Mourning Glory and The Break Up, which she wrote, directed, and produced, were official selections at several film festivals. In addition, Janna has written for Disney Junior, The Hub, Children's Television Workshop, and Columbia TriStar Television. She lives in Los Angeles, California.
Praise For…
---
If Instagram influencers are your poison, The Seasonaires is your slushie of arsenic frosé.


The Seasonaires is the summer drama you need in your beach bag.


An idyllic summer on Nantucket is shattered by murder in King's fiery debut.

King roars onto the scene with this outstanding sexy and splashy debut full of secrets, greed, guilt, and lust. The characters come alive on the pages, with each one taking on his or her own air of mystery and intrigue. Readers won't know whom or what to believe as the intense pace, coupled with interwoven story lines and alibis, gets more muddled until the jaw-dropping climax.

Janna King's debut novel, The Seasonaires, tells the story of six 20-something summer brand ambassadors whose growing social media followings get them caught up in a world of corporate greed, substance abuse, and—eventually—murder.


The dream summer idyll turns into an Instastory-fueled nightmare in this thrilling and sexy debut. This is a world where advertising jumps off the billboards and into the boardwalk bars, where it lives and breathes and might buy you a tequila shot or a frozen daiquiri—if you're lucky—before seducing you for a handful of likes. But underneath the glitter lies a no-filter reality. Equal parts terrifying and titillating, The Seasonaires is no mere beach read. You'll be rubbing sand out of your eyes long after you reach the valedictory hashtag.             

— Charles Blackstone, author of VINTAGE ATTRACTION

Timely and dazzling.  With an uncanny knack for understanding and exploding Millennial stereotypes stereotypes, Janna King shows us the consequences of selfish choices—but it sure seems fun before reality steps into this party-filled summer.  With an eclectic cast of characters all up for adventure, The Seasonaires will keep readers guessing until the very last page of this genre-blending novel.  A mashup sure to delight thriller fans from any generation.

— Erica Wright, author of THE GRANITE MOTH and RED CHAMELEON
The Seasonaires (Paperback)
How to tell if a book is in stock...
"On Our Shelves Now" means yes, we have it on hand, order away!
"Ships in 1-5 days" means we sold our last copy, but more are easily available so still, order away!!
"Special Order" means it may be out of print or hard to get. Call the store to get more information from a Bookseller.

Not sure and want to double check? Be Savvy! Call and ask one of our booksellers for more details.