How to tell if a book is in stock...
"On Our Shelves Now" means yes, we have it on hand, order away!
"Ships in 1-5 days" means we sold our last copy, but more are easily available so still, order away!!
"Special Order" means it may be out of print or hard to get. Call the store to get more information from a Bookseller.

Not sure and want to double check? Be Savvy! Call and ask one of our booksellers for more details.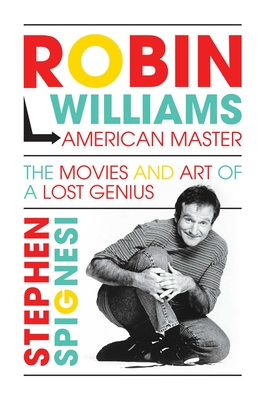 $28.00
Usually Ships in 1-5 Days
Description
---
A comprehensive guide to all of Robin Williams's movies, with facts about plots, performances, and cast, as well as notable trivia and behind-the-scenes details about each film.

Did you know that, according to director Chris Columbus, Robin Williams improvised so much during the filming of Mrs. Doubtfire that the studio had enough footage to release PG, PG-13, R, and NC-17 versions of the movie? Or that Robin ad-libbed all his lines in Good Morning, Vietnam because the DJ the movie was based on didn't really do comedy during his shows?

Robin Williams, American Master looks at Robin's seventy movies, from his earliest appearance in Can I Do It…'Til I Need Glasses? to his final posthumous voice-only appearance in Absolutely Anything.

Each film is discussed in detail, with special emphasis on Robin's performances and how they exist in the context of his entire body of work.

Robin Williams, American Master is the perfect tour guide through Robin's epic collection of cinematic genius.
About the Author
---
Author and University of New Haven Practitioner in Residence (ret.) Stephen Spignesi writes extensively about popular culture and is considered a world authority on Stephen King, The Beatles, Robin Williams, Woody Allen, The Andy Griffith Show, ER, and other pop culture subjects and TV shows. His other areas of interest include American history, the US presidents and founders, the Titanic, true crime, and the paranormal. He appears in the 2015 ITV documentary Autopsy: The Last Hours of Robin Williams. His first novel Dialogues was hailed as a "reinvention of the psychological thriller."
Robin Williams, American Master: The Movies and Art of a Lost Genius (Hardcover)