How to tell if a book is in stock...
"On Our Shelves Now" means yes, we have it on hand, order away!
"Ships in 1-5 days" means we sold our last copy, but more are easily available so still, order away!!
"Special Order" means it may be out of print or hard to get. Call the store to get more information from a Bookseller.

Not sure and want to double check? Be Savvy! Call and ask one of our booksellers for more details.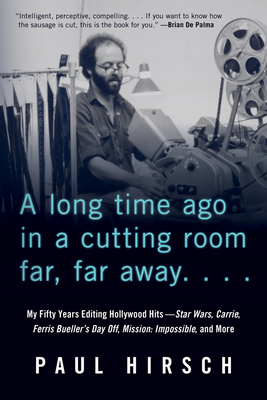 $30.00
Usually Ships in 1-5 Days
Description
---
A Long Time Ago in a Cutting Room Far, Far Away provides a behind-the-scenes look at some of the most influential films of the last fifty years as seen through the eyes of Paul Hirsch, the Oscar-winning film editor who worked on such classics as George Lucas's Star Wars and The Empire Strikes Back, Brian De Palma's Carrie and Mission: Impossible, Herbert Ross's Footloose and Steel Magnolias, John Hughes's Ferris Bueller's Day Off and Planes, Trains & Automobiles, Joel Schumacher's Falling Down, and Taylor Hackford's Ray.

Hirsch breaks down his career movie by movie, offering a riveting look at the decisions that went into creating some of cinema's most iconic scenes. He also provides behind-the-scenes insight into casting, directing, and scoring and intimate portraits of directors, producers, composers, and stars. Part film school primer, part paean to legendary filmmakers and professionals, this funny and insightful book will entertain and inform aficionados and casual moviegoers alike.
About the Author
---
Paul Hirsch received the Academy Award for his editing work on Star Wars in 1978. In 2005, he received his second Academy Award nomination for Taylor Hackford's Ray. He is the only person to ever win the Saturn Award for best editing twice. In 2017 he was given the special Award to Editor with Unique Visual Sensitivity by the International Film Festival of the Art of Cinematography, Camerimage. He lives in Los Angeles.
Praise For…
---
"Paul Hirsch, a master of his craft, has written an intelligent, perceptive, compelling memoir of his editing life, from the late '60s through today. From the heights of Star Wars to the depths of Pluto Nash, if you want to know how the sausage is cut, this is the book for you. I should know, I was with him in the beginning and through our misadventure to Mars. Congratulations, Paul, for remembering all the things we forgot." —Brian De Palma
"It shouldn't be surprising that a great storyteller can tell great stories. From the man in the (cutting) room where it happened on many of our favorite films comes a glorious piece of work that makes you feel that you were there yourself. How do I feel about this book? Not 'ipsy-pipsy.' If you want to decipher that, read it!" —J.J. Abrams

 
"Paul's written a terrific expert's view of the editing process, which I believe will be an important technical and historical narrative for future filmmakers and film lovers." —Taylor Hackford
"Storyteller and showman, film editor Paul Hirsch narrates the ups and downs of his fifty-year career on the jungle gym of cinema with fascinating inside-the-boiler-room tales of how classic hits and flops were constructed—and deconstructed. Jaw-dropping tales of working with George Lucas on Star Wars and The Empire Strikes Back and on eleven Brian De Palma films (Carrie, Phantom of the Paradise, etc.). Paul's invaluable tips and insights, hard won through experience, will brilliantly illuminate the creative process for aspiring filmmakers and enthusiasts alike." —Walter Murch
"For its sheer excellence, diversity, and cultural impact, Paul Hirsch's filmography speaks for itself. They say a film is made in the editing room, and this book is easily the most comprehensive, revelatory, and illuminating account of this essential cinematic art. A must-read for both the casual moviegoer and the serious cinephile alike." —Mark Hamill
"Veteran Hollywood film editor Hirsch's memoir overflows with fascinating insights and anecdotes" — Publishers Weekly
"The stories and insights from a veteran editor will appeal to cinephiles and anyone looking to learn more about the craft." —Booklist
"Mr. Hirsch paints a vivid picture of the crucial work done by film editors."— Wall Street Journal 
"a treasure...Hirsch takes readers on a journey through his extraordinary career with a writing style that is clear, entertaining, and rollicking."— American Cinema Editors (ACE) Magazine
A Long Time Ago in a Cutting Room Far, Far Away: My Fifty Years Editing Hollywood Hits—Star Wars, Carrie, Ferris Bueller's Day Off, Mission: Impossible, and More (Hardcover)