How to tell if a book is in stock...
"On Our Shelves Now" means yes, we have it on hand, order away!
"Ships in 1-5 days" means we sold our last copy, but more are easily available so still, order away!!
"Special Order" means it may be out of print or hard to get. Call the store to get more information from a Bookseller.

Not sure and want to double check? Be Savvy! Call and ask one of our booksellers for more details.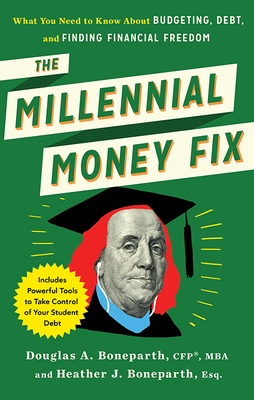 Please call 603-279-3905 for pricing
Description
---
The world today comes with a list of challenges. Figuring out how to get your feet planted and get your finances on track should be easier, but we're not always prepared with the best information despite the best education. Enter The Millennial Money Fix, a candid guide to understand how to handle your money with the obstacles of today.

This book will get you through each step including:

Identifying honest and realistic goals.

Selecting and paying for a college or graduate program.

Mastering cash flow to jumpstart your life.

Navigating the job landscape to do what you love.

Planning for marriage, babies, and all that gushy stuff.

Redefining retirement as your ability to do what you want.
About the Author
---
After watching his wife and friends struggle through The Great Recession, Douglas A. Boneparth wanted to invest in his peers, regardless of whether they could invest in him. He founded Bone Fide Wealth, LLC, a boutique wealth management firm. Boneparth is a leading financial expert in the media and also serves as an ambassador for the Certified Financial Planner Board of Standards. Visit him online at @dougboneparth and at www.bonefidewealth.com.
Heather J. Boneparth is Douglas's marketing manager, counsel, and wife. In 2010, she graduated law school with honors and six figures of student loan debt. After several years in private practice, she left billable hours behind for the corporate world, rekindled her love of writing, and created this book with Douglas while on maternity leave from her job. If she was The Millennial Problem, this book was her Fix. They recently moved to the suburbs of Westfield, New Jersey.
Praise For…
---
"The Millennial Money Fix is written in a wonderful conversational style that entertains as it educates. As such it is as clear a case as any that the student can become the teacher."
--Robert Seamans, Professor, NYU Stern School of Business
— Reviews

"The Millennial Money Fix highlights two of today's concerns, the higher education bubble and the changing job market. Douglas and Heather Boneparth accurately describe higher education bubble the coming changes in the job market in a pragmatic way most people haven't read. The Boneparths then give their readers reliable solutions to address these problems and, ultimately, achieve financial freedom."
--Debt Free Guys, money bloggers and authors, 4: The Four Principles of a Debt Free Life
— Reviews

"Life's investment journey is best begun based on solid footing, and Douglas and Heather offer an exceptional blend of history and education along with sound advice to fortify your financial foundation--an enjoyable and valuable reference for Millennials and more."
--Wayne Bloom, CEO, Commonwealth Financial Network
— Reviews

"The Millennial Money Fix by Douglas and Heather Boneparth provides a fiscal roadmap for today's largest generation, Millennials. The book offers multiple lessons in financial literacy, which will be eye-opening for some readers but are necessary for all young people to know."
--Leah Ingram, author, The Complete Guide to Paying for College
— Reviews
The Millennial Money Fix: What You Need to Know About Budgeting, Debt, and Finding Financial Freedom (Paperback)