How to tell if a book is in stock...
"On Our Shelves Now" means yes, we have it on hand, order away!
"Ships in 1-5 days" means we sold our last copy, but more are easily available so still, order away!!
"Special Order" means it may be out of print or hard to get. Call the store to get more information from a Bookseller.

Not sure and want to double check? Be Savvy! Call and ask one of our booksellers for more details.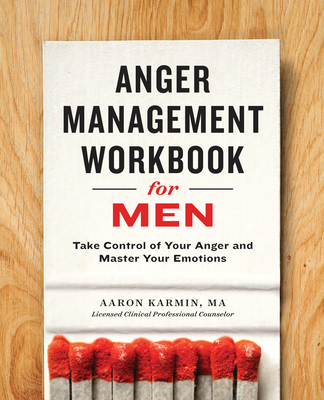 $13.99
Usually Ships in 1-5 Days
Description
---
A modern, no-nonsense anger management workbook written specifically for men
Are you ready to take control of your anger? Clinical Therapist Aaron Karmin teaches you the skills to manage your anger without aggression and build up your self-confidence, self-control, and self-respect.
The Anger Management Workbook for Men goes beyond why men get angry and helps you get to the root of your anger by including:
Invaluable information and assessments to help evaluate your anger
Concrete examples of productively expressing anger
Clinical examples of anger management strategies
The Anger Management Workbook for Men will give you positive and productive anger management tools to strengthen the most important and most overlooked relationship in your life-your relationship with yourself.
About the Author
---
AARON KARMINis a Chicago-based licensed clinical professional counselor and certified clinical hypnotherapist in private practice. As an anger management counselor for more than 12 years, Aaron helps his clients develop control over impulsive behavior. He also writes regularly for PsychCentral's Anger Management Blog and is often asked to speak publicly about anger management.
Anger Management Workbook for Men: Take Control of Your Anger and Master Your Emotions (Paperback)