Dark Mirror: Edward Snowden and the American Surveillance State (Hardcover)
How to tell if a book is in stock...
"On Our Shelves Now" means yes, we have it on hand, order away!
"Ships in 1-5 days" means we sold our last copy, but more are easily available so still, order away!!
"Special Order" means it may be out of print or hard to get. Call the store to get more information from a Bookseller.

Not sure and want to double check? Be Savvy! Call and ask one of our booksellers for more details.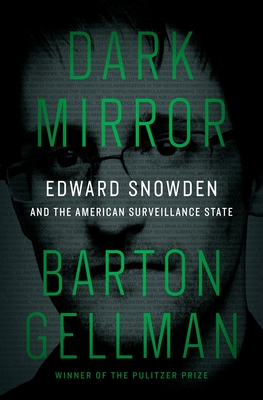 Description
---
"Engrossing. . . . Gellman [is] a thorough, exacting reporter . . . a marvelous narrator for this particular story, as he nimbly guides us through complex technical arcana and some stubborn ethical questions. . . . Dark Mirror would be simply pleasurable to read if the story it told didn't also happen to be frighteningly real." —Jennifer Szalai, The New York Times

From the three-time Pulitzer Prize winner and author of the New York Times bestseller Angler, the definitive master narrative of Edward Snowden and the modern surveillance state, based on unique access to Snowden and groundbreaking reportage around the world.

Edward Snowden touched off a global debate in 2013 when he gave Barton Gellman, Laura Poitras and Glenn Greenwald each a vast and explosive archive of highly classified files revealing the extent of the American government's access to our every communication. They shared the Pulitzer Prize that year for public service. For Gellman, who never stopped reporting, that was only the beginning.  He jumped off from what Snowden gave him to track the reach and methodology of the U.S. surveillance state and bring it to light with astonishing new clarity.  Along the way, he interrogated Snowden's own history and found important ways in which myth and reality do not line up.  Gellman treats Snowden with respect, but this is no hagiographic account, and Dark Mirror sets the record straight in ways that are both fascinating and important.
 
Dark Mirror is the story that Gellman could not tell before, a gripping inside narrative of investigative reporting as it happened and a deep dive into the machinery of the surveillance state. Gellman recounts the puzzles, dilemmas and tumultuous events behind the scenes of his work – in top secret intelligence facilities, in Moscow hotel rooms, in huddles with Post lawyers and editors, in Silicon Valley executive suites, and in encrypted messages from anonymous accounts. Within the book is a compelling portrait of national security journalism under pressure from legal threats, government investigations, and foreign intelligence agencies intent on stealing Gellman's files. Throughout Dark Mirror, Gellman wages an escalating battle against unknown adversaries who force him to mimic their tradecraft in self-defense. 

With the vivid and insightful style that is the author's trademark, Dark Mirror is a true-life spy tale about the surveillance-industrial revolution and its discontents. Along the way, with the benefit of fresh reporting, it tells the full story of a government leak unrivaled in drama since All the President's Men.
About the Author
---
Barton Gellman is a Pulitzer Prize and Emmy Award-winning journalist. Since 2013 he has been a senior fellow at the Century Foundation. During 21 years at the Washington Post he served tours as legal, military, diplomatic, and foreign correspondent. He has taught courses at Princeton on nonfiction writing, investigative reporting and national security secrecy. His bestselling Angler: The Cheney Vice Presidency won the Los Angeles Times Book Prize and was a New York Times Best Book of 2008.
Praise For…
---
"Engrossing. . . . Gellman [is] a thorough, exacting reporter . . . a marvelous narrator for this particular story, as he nimbly guides us through complex technical arcana and some stubborn ethical questions. . . . Dark Mirror would be simply pleasurable to read if the story it told didn't also happen to be frighteningly real." —Jennifer Szalai, The New York Times
 
"Illuminating. . . . Newsworthy. . . . Dark Mirror stands out from all the other accounts. Gellman, a Pulitzer Prize-winning former Washington Post investigative reporter and author of Angler, an influential 2008 biography of Dick Cheney, didn't just use the Snowden files as sources; he used them as starting points for deep, labor-intensive reporting." —The Washington Post

"Gellman offers the most detailed, comprehensive and balanced take on the impact of Snowden's 2013 revelations and what they mean today, as the debate on national security versus individual privacy keeps evolving. . . . A compelling book." —NPR

"An insider account of the breaking of Edward Snowden's story and its wider implications for the modern world, all told in prose as gripping as a spy thriller." —Christian Science Monitor

"A fine and deeply considered portrait of the US-dominated 21st-century surveillance state." —The Guardian

"[A] thoughtful mix of reportage and revelation. . . . a necessary and deep meditation about how far our online lives can or indeed should remain completely private." —Sunday Times (UK)

"Engaging. . . . a well-documented account on the far-reaching impact of U.S. domestic surveillance and the resulting intrusions of privacy; highly recommended both for general readers and those with an interest in national security." —Library Journal

"Gellman delivers a compelling story while recounting difficult predicaments and behind-the-scenes events. He takes a deep dive into the surveillance state while recalling being subjected to government investigations, legal pressures, and threats from foreign agencies determined to steal his files. Readers will be drawn into the conversational style of [Dark Mirror]." —Booklist 

"An eloquent behind-the-scenes account of [Gellman's] reporting on NSA contractor Edward Snowden's leak of top-secret U.S. intelligence documents. . . . Enriching the high-level technical and legal analysis with a sharp sense of humor, Gellman presents an exhaustive study of intelligence gathering in the digital age. Even readers who have followed the Snowden story closely will learn something new." —Publishers Weekly

"[A] masterful narrative . . . that deserves its place alongside All the President's Men, Five Days at Memorial, Nickel and Dimed, and other classics of the genre. . . . A riveting, timely book sure to be one of the most significant of the year." —Kirkus, starred review

"Partly a thriller about reporting the secrets the US government hoped to keep, partly a deeper exposé about the vast power the surveillance state built to pierce Americans' privacy with a few keystrokes, Dark Mirror is a riveting page-turner that captures the danger and drama of the most important leak of classified material in generations. I lived part of this story in real time and am amazed at how many startling things I learned in these pages." —Carol Leonnig, three-time Pulitzer winner and bestselling author of A Very Stable Genius
 
"Bart Gellman is that rare combination of a tenacious reporter, a clear explicator of the most complex subjects, and a first-rate storyteller, all rolled into one. To say that Dark Mirror is based on his groundbreaking reporting on the NSA for the Washington Post is to undersell it: this book is a deep exploration of a surveillance apparatus of unimaginable magnitude, a chronicle of Gellman's intense and sometimes fraught relationship with his enigmatic and controversial source, Edward Snowden, and an intimate, disarmingly candid reporter's notebook about what it's like to spend years watching the watchers, and realizing, along the way, that they are watching you back." —Patrick Radden Keefe, New York Times bestselling author of Say Nothing: A True Story of Murder and Memory in Northern Ireland
 
"Whether you love Edward Snowden or loathe him, Bart Gellman's new book is essential reading for anyone who cares about privacy and national security. Gellman offers a riveting and often surprising account of his dealings with Snowden, who, for all his seeming idealism, also misdirected Gellman about some key facts. But whatever Snowden's defects, the scope of the NSA global snooping campaign he revealed is more shocking than ever, as Gellman pieces together the puzzle. If you want to understand how intelligence works in the 21st century, Dark Mirror is a must." —David Ignatius, columnist for the Washington Post and author of The Paladin

"This is an enthralling tale of how Barton Gellman, one of the great investigative journalists of our era, worked to understand, process, and report the greatest and most challenging leaks of all time. Dark Mirror is a spy-thriller page-turner that delivers a fresh but complex portrait of Edward Snowden, a fair-minded but damning critique of America's global surveillance behemoth, and a gripping, self-reflective master-class on how to discern truth in the dark shadows of the intelligence world." —Jack Goldsmith, professor, Harvard Law School; assistant attorney general, Office of Legal Counsel, during the George W. Bush administration

"Dark Mirror is a riveting narrative of investigative reporting in the age of surveillance. It is a dramatic, authoritative account not only of the significance of Edward Snowden's revelations, but of what public interest journalism must overcome to inform citizens about their exposure to our dystopian Internet." —Steve Coll, Pulitzer-Prize-winning author of Ghost Wars and Directorate S 




Coverage from NPR