A Warning (Hardcover)
How to tell if a book is in stock...
"On Our Shelves Now" means yes, we have it on hand, order away!
"Ships in 1-5 days" means we sold our last copy, but more are easily available so still, order away!!
"Special Order" means it may be out of print or hard to get. Call the store to get more information from a Bookseller.

Not sure and want to double check? Be Savvy! Call and ask one of our booksellers for more details.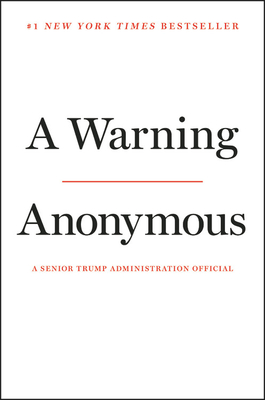 Description
---
#1 New York Times and #1 Wall Street Journal bestseller: An unprecedented behind-the-scenes portrait of the Trump presidency from the anonymous senior official whose first words of warning about the president rocked the nation's capital.
On September 5, 2018, the
New York Times
published a bombshell essay and took the rare step of granting its writer anonymity. Described only as "a senior official in the Trump administration," the author provided eyewitness insight into White House chaos, administration instability, and the people working to keep Donald Trump's reckless impulses in check.
With the 2020 election on the horizon, Anonymous is speaking out once again. In this book, the original author pulls back the curtain even further, offering a first-of-its-kind look at the president and his record -- a must-read before Election Day. It will surprise and challenge both Democrats and Republicans, motivate them to consider how we judge our nation's leaders, and illuminate the consequences of re-electing a commander in chief unfit for the role.
This book is a sobering assessment of the man in the Oval Office and a warning about something even more important -- who we are as a people.
About the Author
---
Described as "a senior official in the Trump administration," Anonymous offers a firsthand account of one of the most consequential presidencies in American history.
Praise For…
---

p.p1 {margin: 0.0px 0.0px 0.0px 0.0px; line-height: 17.0px; font: 14.7px Helvetica; color: #201f1e; -webkit-text-stroke: #201f1e; background-color: #ffffff}
span.s1 {font-kerning: none}



"What Americans should actually be concerned about when it comes to Trump and his administration."— p.p1 {margin: 0.0px 0.0px 0.0px 0.0px; line-height: 17.0px; font: 15.0px Helvetica; color: #201f1e; -webkit-text-stroke: #201f1e; background-color: #ffffff} span.s1 {font-kerning: none} Rachel Maddow


p.p1 {margin: 0.0px 0.0px 0.0px 0.0px; line-height: 17.0px; font: 15.0px Helvetica; color: #000000; -webkit-text-stroke: #000000; background-color: #ffffff}
span.s1 {font-kerning: none}



"A scathing portrait of a president and administration in chaos."—Susan Page, USA Today


p.p1 {margin: 0.0px 0.0px 0.0px 0.0px; line-height: 17.0px; font: 15.0px Helvetica; color: #000000; -webkit-text-stroke: #000000; background-color: #ffffff}
span.s1 {font-kerning: none}



"In a year overflowing with books about Donald Trump...[A WARNING] is set to be the most-discussed political book of the year."— p.p1 {margin: 0.0px 0.0px 0.0px 0.0px; line-height: 17.0px; font: 15.0px Helvetica; color: #000000; -webkit-text-stroke: #000000; background-color: #ffffff} span.s1 {font-kerning: none} TIME ("Must Read Books of 2019")


p.p1 {margin: 0.0px 0.0px 0.0px 0.0px; line-height: 17.0px; font: 14.7px Helvetica; color: #201f1e; -webkit-text-stroke: #201f1e; background-color: #ffffff}
span.s1 {font-kerning: none}



"This slim volume is...the sounding of a national alarm."— p.p1 {margin: 0.0px 0.0px 0.0px 0.0px; line-height: 17.0px; font: 14.7px Helvetica; color: #201f1e; -webkit-text-stroke: #201f1e; background-color: #ffffff} span.s1 {font-kerning: none} Ron Elving, NPR


p.p1 {margin: 0.0px 0.0px 0.0px 0.0px; line-height: 17.0px; font: 14.7px Helvetica; color: #201f1e; -webkit-text-stroke: #201f1e; background-color: #ffffff}
span.s1 {font-kerning: none}



"Offers eye-popping insider details"—CNN

"Explosive."—Alexandra Alter, The New York Times


p.p1 {margin: 0.0px 0.0px 0.0px 0.0px; line-height: 17.0px; font: 14.7px Helvetica; color: #201f1e; -webkit-text-stroke: #201f1e; background-color: #ffffff}
span.s1 {font-kerning: none}



"Alarming...What is most revealing about A WARNING is the warning it delivers about the Republican Party."—Amy Davidson Sorkin, The New Yorker


p.p1 {margin: 0.0px 0.0px 0.0px 0.0px; line-height: 17.0px; font: 14.7px Helvetica; color: #201f1e; -webkit-text-stroke: #201f1e; background-color: #ffffff}
span.s1 {font-kerning: none}



"There is no modern historical parallel."—Phil Rucker, The Washington Post


p.p1 {margin: 0.0px 0.0px 0.0px 0.0px; line-height: 17.0px; font: 14.7px Helvetica; color: #201f1e; -webkit-text-stroke: #201f1e; background-color: #ffffff}
span.s1 {font-kerning: none}



"Paints a chaotic picture of the administration."—Newsweek


p.p1 {margin: 0.0px 0.0px 0.0px 0.0px; line-height: 17.0px; font: 14.7px Helvetica; color: #201f1e; -webkit-text-stroke: #201f1e; background-color: #ffffff}
span.s1 {font-kerning: none}



"Anonymous has tales to tell...The writer does deliver...[A WARNING] stands to add fuel to the fire."—The Guardian


p.p1 {margin: 0.0px 0.0px 0.0px 0.0px; line-height: 17.0px; font: 15.0px Helvetica; color: #000000; -webkit-text-stroke: #000000; background-color: #ffffff}
span.s1 {font-kerning: none}



"Anonymous writes authoritatively...[A WARNING] will sound familiar to a number of current and former White House officials."—Maggie Haberman, The New York Times


p.p1 {margin: 0.0px 0.0px 0.0px 0.0px; line-height: 17.0px; font: 15.0px Helvetica; color: #000000; -webkit-text-stroke: #000000; background-color: #ffffff}
span.s1 {font-kerning: none}



"A WARNING is full of revelations."—GQ Magazine