How to tell if a book is in stock...
"On Our Shelves Now" means yes, we have it on hand, order away!
"Ships in 1-5 days" means we sold our last copy, but more are easily available so still, order away!!
"Special Order" means it may be out of print or hard to get. Call the store to get more information from a Bookseller.

Not sure and want to double check? Be Savvy! Call and ask one of our booksellers for more details.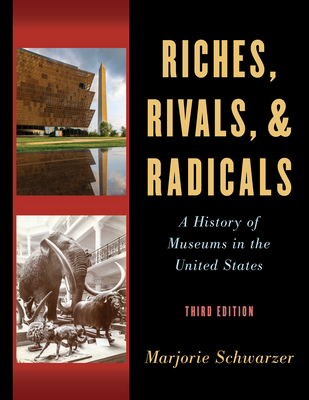 Description
---
Since it was first published in 2006, Riches, Rivals and Radicals has been the go-to text for introductory museum studies courses. It is also of great value to professionals as well as museum lovers who want to learn the stories behind how and why these institutions have evolved since the day the first mastodon bones, royal portraits and botanical specimens entered their halls. For this third edition, Marjorie Schwarzer has mined new resources, previously unavailable archives and contemporary trends to provide a fresh look at the challenges and innovations that have shaped museums in the United States. Schwarzer argues that museums are fundamentally optimistic institutions. They build and preserve some of the nation's most extraordinary architecture. They showcase the beauty and promise of new scientific discoveries, historical breakthroughs and artistic creation. They provide places of inspiration and repose. At the same time, museums have succeeded in exposing some of the nation's most painful legacies - racism, inequity, violence - as they strive to be places for healing and reckoning. This too, one could argue, is an act of optimism, for it expresses the hope that museum visitors will gain empathy and understanding from the evidence of others' struggles. Schwarzer shows us how museums are rooted in a contentious history tied to social, technological and economic trends and ultimately changing ideas of what it means to be a citizen. Along the way we meet some notorious and eccentric characters including business tycoons, architects, collectors, designers, politicians, political activists and progressive educators, all of whom have exerted their influence on what is a complex yet nonetheless enduring institution. Major additions since the last edition include material on digital curation, emergent exhibitions about civil rights, immersive museum environments, continuing efforts to diversify the field, how museums' role in our increasingly digital society, and a new foreword by American Alliance of Museums President and CEO Laura L. Lott. Museums new to this edition include the National Museum of African American History and Culture, the National Memorial for Peace and Justice, and the 9/11 Memorial and Museum. Beautifully written and lavishly illustrated, the third edition of this accessible, award-winning book brings the reader up to date on the stories behind the people and events that have transformed America's museums from their beginnings into today's vibrant cultural institutions.
About the Author
---
Marjorie Schwarzer has been active in the museum field for over forty years, most recently as professor and administrative director of the graduate museum studies program at the University of San Francisco. She has published widely on museum issues, including: leadership, gender equity, digital technology, and exhibition typologies.
Riches, Rivals, and Radicals: A History of Museums in the United States (American Alliance of Museums) (Paperback)