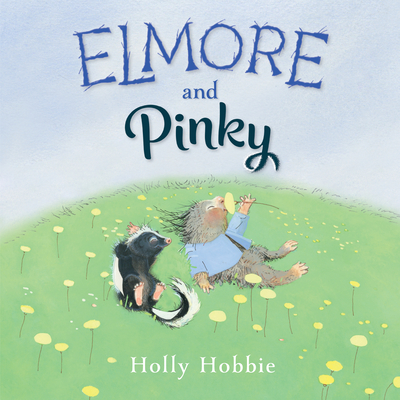 Description
---
A prickly porcupine searches for a best friend in this sequel to Elmore from Toot & Puddle author Holly Hobbie.

Elmore the porcupine feels warm and comfortable in his neighborhood, and has many friends. But lately he has been feeling that he is missing someone, someone who will always be there -- a best friend. His uncle assures him that those kinds of friendships just happen over time, but determined Elmore goes out in search of one anyway. Then Elmore meets Pinky, a skunk who has a similar problem. Likely companions for Pinky are deterred because...well, he stinks! As the two commiserate and spend time together, they accept each other's shortcomings and develop what each of them wants most: a real friendship with a best friend.

Holly Hobbie tenderly renders these sweet and relatable characters in exquisite watercolor, and has us rooting for them to the end.
About the Author
---
HOLLY HOBBIE has worked as an artist for more than forty years and is the author of eleven highly acclaimed Toot & Puddle picture books. She most recently created the picture book A Cat Named Swan and wrote and illustrated her own picture-book memoir, Everything but the Horse: A Childhood Memory. Holly and her husband, Doug, live in Massachusetts. [no social media]
Praise For…
---
"A gentle tale with quiet dialogue, a bit of excitement, and a reassuring ending." —Booklist

"The story is endearing in its heartfelt simplicity, maintains sincerity, and reminds readers that there are fitting companions for all types…. Share this book with your best friend." —Kirkus Reviews
Elmore and Pinky (Hardcover)
How to tell if a book is in stock...
"On Our Shelves Now" means yes, we have it on hand, order away!
"Ships in 1-5 days" means we sold our last copy, but more are easily available so still, order away!!
"Special Order" means it may be out of print or hard to get. Call the store to get more information from a Bookseller.

Not sure and want to double check? Be Savvy! Call and ask one of our booksellers for more details.