How to tell if a book is in stock...
"On Our Shelves Now" means yes, we have it on hand, order away!
"Ships in 1-5 days" means we sold our last copy, but more are easily available so still, order away!!
"Special Order" means it may be out of print or hard to get. Call the store to get more information from a Bookseller.

Not sure and want to double check? Be Savvy! Call and ask one of our booksellers for more details.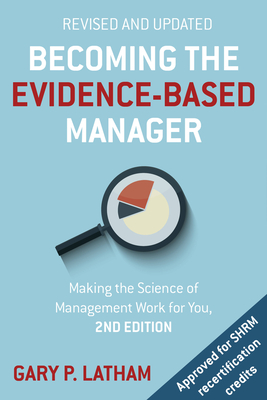 Description
---
Over 50-years of management science distilled for everyday practice.

The essential information you need to become an evidence-based manager from hiring to retention. Information is presented within 10 general lessons of management, a new case-study featuring two evidence-based managers in action, and thought-provoking questions at the end of each chapter.

NEW to this edition:
NEW Material on the importance of emotional intelligence
NEW Chapter 5: on ways to engage your employees in their work
NEW Chapter 6: on ways to ensure your career success
NEW Chapter 7: on how to create a psychologically
healthy workplace
NEW Chapter 9: on the pitfalls to avoid when making decisions
NEW Chapter 10: two leading-edge ways to coach and appraise the people on your team
NEW End of chapter questions to reinforce learning

About the Author
---
Gary P. Latham is Professor of Organizational Effectiveness at Rotman School of Management. He is a Fellow of the American Psychological Association, Canadian Psychological Association, National Academy of Human Resources, and the Society for Industrial-Organizational Psychology. He serves on the Board of Directors of the SHRM Foundation.
Praise For…
---
"There are too many fads and folderols in management, many wrong, some even harmful. This book is a must read for managers or students aspiring to be effective managers capable of building an effective organization. Gary Latham has brilliantly summarized the implication of thousands of rigorous academic studies into ten foundational lessons you can rely on to be right."
—
Michael Beer, Professor Emeritus, Harvard Business School
,
-
"Gary Latham emphasizes the scientific aspect of effective management---evidence-based management, in an artful way. Practical examples and colorful illustrations demonstrate why and how proven, tested, techniques work in ten critical areas of management."
—
Wayne F. Cascio, Ph.D. Distinguished Professor and Robert H. Reynolds Chair in Global Leadership, University of Colorado Denver
,
-
"Management must become more evidence-based. Latham has written a must-read book that explains what this means and provides many examples of what managers can do in order to make it happen. It identifies a wealth of practices that have been shown to be effective."
—
Edward E. Lawler III, Director of the Center for Effective Organizations in the Marshall School of Business, University of Southern California
,
-
Becoming the Evidence-Based Manager, 2nd Edition: Making the Science of Management Work for You (Paperback)