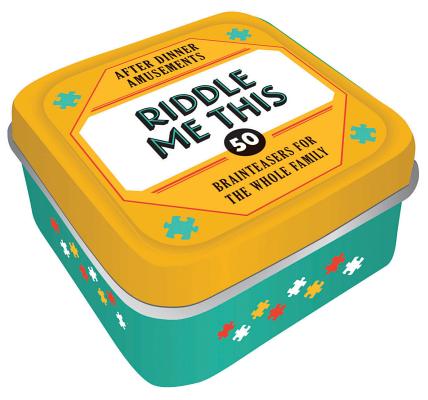 Description
---
What's the perfect boredom buster for any occasion, be it a cozy night at home or a long family road trip? A riddle! And this irresistible little tin contains 50 of them.

• tin box with lift-off lid: 2-1/4" x 2-1/4" x 1-1/4"
• 51 cards: 2" x 2"
• full-color throughout
• for 2 or more players
About the Author
---
Chronicle Books publishes distinctive books and gifts. From award-winning children's titles, bestselling cookbooks, and eclectic pop culture to acclaimed works of art and design, stationery, and journals, we craft publishing that's instantly recognizable for its spirit and creativity. Enjoy our publishing and become part of our community at www.chroniclebooks.com.
After Dinner Amusements: Riddle Me This: 50 Brainteasers for the Whole Family (Dinner Party Gifts, Games for Adults, Games for Dinner Parties) (Cards)
How to tell if a book is in stock...
"On Our Shelves Now" means yes, we have it on hand, order away!
"Ships in 1-5 days" means we sold our last copy, but more are easily available so still, order away!!
"Special Order" means it may be out of print or hard to get. Call the store to get more information from a Bookseller.

Not sure and want to double check? Be Savvy! Call and ask one of our booksellers for more details.