How to tell if a book is in stock...
"On Our Shelves Now" means yes, we have it on hand, order away!
"Ships in 1-5 days" means we sold our last copy, but more are easily available so still, order away!!
"Special Order" means it may be out of print or hard to get. Call the store to get more information from a Bookseller.

Not sure and want to double check? Be Savvy! Call and ask one of our booksellers for more details.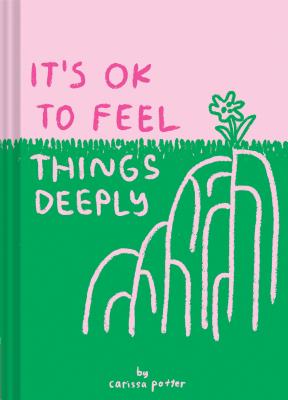 Description
---
From Carissa Potter, whose stationery and gift line, People I've Loved, has been featured on Design Sponge, Cool Hunting, and Apartment Therapy.

Times can get tough, and this book is here to support women through those moments. Its uplifting and positive message helps women cope with depression, grief, anxiety and stress. It is a reminder that it's normal to feel those emotions, and it provides support for navigating through them. Like a hug from a friend, it will become a go-to positivity boost for women dealing with life's difficult times. Through practical guidance, meaningful messages of empathy, honesty, art and humor, It's Okay to Feel Things Deeply gives women the encouragement they need exactly when they need it.

• Vibrant illustrations throughout
• Positive message promotes self-love
• Helps women tackle difficult emotions like depression, anxiety, anger, loneliness, and grief

Fans of People I've Loved, Emotional First Aid: Healing Rejection, Guilt, Failure, and Other Everyday Hurts and It's OK That You're Not OK: Meeting Grief and Loss in a Culture That Doesn't Understand will love this book.

• Thoughtful gift for friends and family struggling with depression, anxiety or grief
• Perfect addition to a self-help library
• Great for anyone who needs a little cheer
About the Author
---
Carissa Potter is the author of I Like You, I Love You and founder of the stationery line People I've Loved. She lives in Oakland, California.
It's OK to Feel Things Deeply: (Uplifting Book for Women; Feel-Good Gift for Women; Books to Help Cope with Anxiety and Depression) (Hardcover)