How to tell if a book is in stock...
"On Our Shelves Now" means yes, we have it on hand, order away!
"Ships in 1-5 days" means we sold our last copy, but more are easily available so still, order away!!
"Special Order" means it may be out of print or hard to get. Call the store to get more information from a Bookseller.

Not sure and want to double check? Be Savvy! Call and ask one of our booksellers for more details.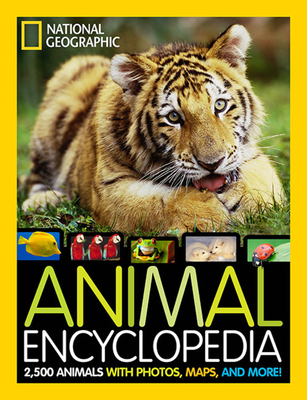 $24.95
Usually Ships in 1-5 Days
Description
---
Hey, why is that funny-looking monkey on TV hanging upside down? Is that fuzzy, chubby guy in the back yard a woodchuck or a groundhog? Now you can find answers to these and hundreds more questions and curiosities right at your fingertips! Featuring 2,500 species and packed with stunning color photographs, amazing animal facts, maps, and more, the new National Geographic Kids Animal Encyclopedia is the most comprehensive on the market today, amazing and entertaining readers, while providing them with authoritative information about the animal kingdom. Kids love to look at animals and this book showcases more than 1,000 gorgeous color photographs as only National Geographic--the leader in wildlife photography--can. Thematic spreads take readers through animal homes and habitats, senses and communication, life cycle and babies, movement and migration, defenses, camouflage, and adaptation, and endangered animals and conservation. Special features in each section include ANIMAL PROFILES spreads that focus in-depth on a particular animal and ANIMAL RECORDS spreads that highlight superlatives such as fastest, tallest, smallest, etc. Exclusive FROM-THE-FIELD reports, that focus on National Geographic explorers and their stories about the animals they study, can only be found in this animal encyclopedia, adding to its entertainment and educational value.

Animals are organized by taxonomy within each section (mammals, birds, reptiles, amphibians, fish, and invertebrates), accompanied by common and scientific name, fact boxes (featuring lifespan, habitat, and size) and text describing diet, special features, and any other pertinent information. Symbols representing conservation and habitat status highlight a high-interest topic for kids, while color-coding on each section provides for ease of navigation. Backmatter will include a listing of animal species along with basic information including name (scientific and common), lifespan, diet, size, and habitat. A comprehensive glossary, index, and "find out more" section round out this must-have resource.


Releases simultaneously in Reinforced Library Binding: 978-1-4263-1023-2 , $33.90/$39.00 Can
About the Author
---
Lucy Spelman is a wildlife veterinarian, educator, public speaker, media consultant, and author with nearly ten years of work experience at the Smithsonian's National Zoo. Board-certified by the American College of Zoological Medicine, she joined the Mountain Gorilla Veterinary Project in October 2006 as its Africa-based regional manager. During the 2009ñ2010 academic year, Dr. Spelman was also a visiting assistant professor at Brown University.
Praise For…
---
"No kids, or animal-lover of any age, should be without the new National Geographic Animal Encyclopedia. This has to be the coolest book from NGK!" —Cookies and Clogs blog
National Geographic Animal Encyclopedia: 2,500 Animals with Photos, Maps, and More! (Hardcover)