How to tell if a book is in stock...
"On Our Shelves Now" means yes, we have it on hand, order away!
"Ships in 1-5 days" means we sold our last copy, but more are easily available so still, order away!!
"Special Order" means it may be out of print or hard to get. Call the store to get more information from a Bookseller.

Not sure and want to double check? Be Savvy! Call and ask one of our booksellers for more details.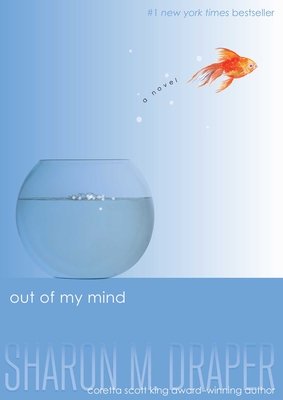 Spring 2010 Kids' Next List
---
"This is the touching story of a gifted child,trapped in a barely working body. Melody, age 11, struggles to communicate with a world of children and adults most of whom can't see beyond her physical limitations. A provocative change of pace for Sharon Draper."
— Peter Moore, The Blue Marble, Fort Thomas, KY
Description
---
Over 1.5 million people have read the #1 New York Times bestseller Out of My Mind and discovered the brilliant mind of Melody Brooks.

Out of My Mind spent two years on the New York Times bestseller list!

"If there's one book teens and parents (and everyone else) should read this year, Out of My Mind should be it." —The Denver Post
"A gutsy, candid, and compelling story. It speaks volumes." —School Library Journal (starred review)
"Unflinching and realistic." —Kirkus Reviews (starred review)
"Uplifting…This moving novel will makes activists of us all." —Booklist (starred review)

From award-winning author Sharon Draper comes a story that will forever change how we all look at anyone with a disability, perfect for fans of RJ Palacio's Wonder.

Eleven-year-old Melody is not like most people. She can't walk. She can't talk. She can't write. All because she has cerebral palsy. But she also has a photographic memory; she can remember every detail of everything she has ever experienced. She's the smartest kid in her whole school, but NO ONE knows it. Most people—her teachers, her doctors, her classmates—dismiss her as mentally challenged because she can't tell them otherwise. But Melody refuses to be defined by her disability. And she's determined to let everyone know it…somehow.
About the Author
---
Sharon M. Draper is a three-time New York Times bestselling author and a recipient of the Margaret A. Edwards Award honoring her significant and lasting contribution to writing for teens. She has received the Coretta Scott King Award for both Copper Sun and Forged by Fire, and was awarded the Charlotte Huck Award for Stella by Starlight. Her novel Out of My Mind has won multiple awards and was a New York Times bestseller for over three years, and Blended has also been a New York Times bestseller. She lives in Florida, where she taught high school English for twenty-five years and was named National Teacher of the Year. Visit her at SharonDraper.com.
Out of My Mind (Paperback)