How to tell if a book is in stock...
"On Our Shelves Now" means yes, we have it on hand, order away!
"Ships in 1-5 days" means we sold our last copy, but more are easily available so still, order away!!
"Special Order" means it may be out of print or hard to get. Call the store to get more information from a Bookseller.

Not sure and want to double check? Be Savvy! Call and ask one of our booksellers for more details.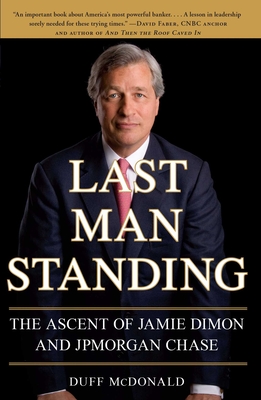 Description
---
In the midst of the most disastrous economic climate of Wall Street's history, one executive has weathered the storm more deftly than any other: Jamie Dimon, chairman and CEO of JPMorgan Chase. In 2008, while Dimon's competitors watched their companies crumble, JPMorgan not only survived, it made an astonishing $5 billion profit. Dimon's continued triumph in the face of an industry-wide meltdown has made him a paragon of finance.

In Last Man Standing, award-winning journalist Duff McDonald provides an unprecedented and deeply personal look at the extraordinary figure behind JPMorgan's success. Using countless hours of interviews with Dimon and his full circle of friends, family, and colleagues, this definitive biography is by far the most comprehensive portrait of the man known as the Savior of Wall Street.

Now, in an updated prologue, McDonald offers insight into the future of Wall Street and how Dimon will overcome the challenge of aggressive new regulation from Washington—and how he plans to continue to thrive as the world's preeminent banker.
About the Author
---
A contributing editor at The New York Observer, Duff McDonald has also written for Vanity Fair, The New Yorker, New York magazine, Fortune, and Esquire, among other publications.
Praise For…
---
"An intimate . . . three-dimensional portrait of the executive, with lots of reporting from his friends and family."
—Mara Der Hovanesian, BusinessWeek
Last Man Standing: The Ascent of Jamie Dimon and JPMorgan Chase (Paperback)