How to tell if a book is in stock...
"On Our Shelves Now" means yes, we have it on hand, order away!
"Ships in 1-5 days" means we sold our last copy, but more are easily available so still, order away!!
"Special Order" means it may be out of print or hard to get. Call the store to get more information from a Bookseller.

Not sure and want to double check? Be Savvy! Call and ask one of our booksellers for more details.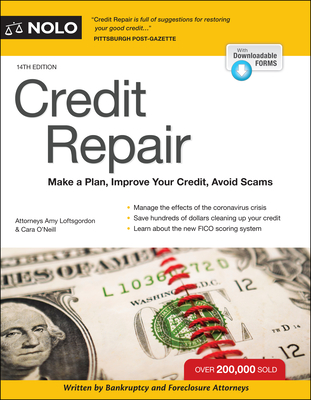 Description
---
Bad credit can get better
A bad credit report can prevent you from getting a mortgage, car loan, credit card, apartment, or even a job. The sensible strategies in Credit Repair help you take control of your finances, clean up your credit report and rebuild your credit. Learn how to:
prioritize debts and create a budget
reduce debts and cut expenses
negotiate with creditors
correct credit report errors and remove old information
add positive information to your credit report
adopt strategies to rebuild your credit, and
avoid identity theft and credit repair scams.
Updates to the 14th edition of Credit Repair include the new FICO scoring system and federal CARES Act credit reporting guidelines, changes to credit freeze and fraud alert laws, the availability of additional free credit reports during the pandemic, and more.
With downloadable forms: Get forms, worksheets, and sample letters--to help you handle debts, clean up your credit, and avoid overspending (details inside).
Credit Repair: Make a Plan, Improve Your Credit, Avoid Scams (Paperback)