How to tell if a book is in stock...
"On Our Shelves Now" means yes, we have it on hand, order away!
"Ships in 1-5 days" means we sold our last copy, but more are easily available so still, order away!!
"Special Order" means it may be out of print or hard to get. Call the store to get more information from a Bookseller.

Not sure and want to double check? Be Savvy! Call and ask one of our booksellers for more details.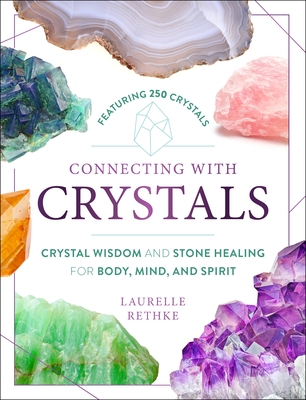 Description
---
A beautiful full-color guide to 250 healing crystals

Crystals have been used for millennia for physical and psychic healing, and this book shows you how to harness their energy and power in your everyday life. With a simple, easy-to-understand description and a full-color photo for each crystal, Laurelle Rethke's Connecting with Crystals is a handy reference and a beautiful object for anyone interested in the ancient art of crystal healing.
About the Author
---
Laurelle Rethke has been using nature's medicine for more than 25 years. Founder of 5 Sense Healing and The Faerie Den in New York City, she is a teacher, speaker, and vibrational healing therapist who believes our relationship with the natural world is key to connecting us to the Divine within ourselves. As a master of crystology and an energy healer, Laurelle seeks to empower others to be their most connected, present, and aligned self—for when we are individually at our most whole, so is the world.
Connecting with Crystals: Crystal Wisdom and Stone Healing for Body, Mind, and Spirit (Paperback)