How to tell if a book is in stock...
"On Our Shelves Now" means yes, we have it on hand, order away!
"Ships in 1-5 days" means we sold our last copy, but more are easily available so still, order away!!
"Special Order" means it may be out of print or hard to get. Call the store to get more information from a Bookseller.

Not sure and want to double check? Be Savvy! Call and ask one of our booksellers for more details.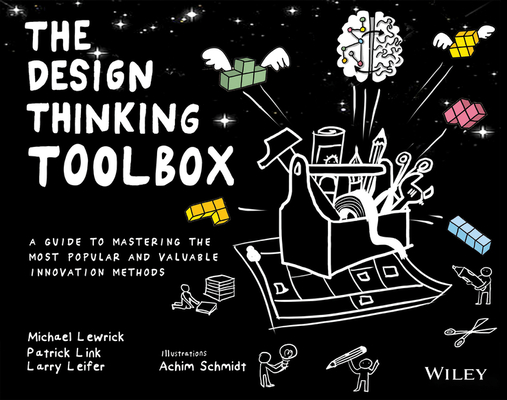 $35.00
Usually Ships in 1-5 Days
Description
---
How to use the Design Thinking Tools
A practical guide to make innovation happen
The Design Thinking Toolbox explains the most important tools and methods to put Design Thinking into action. Based on the largest international survey on the use of design thinking, the most popular methods are described in four pages each by an expert from the global Design Thinking community. If you are involved in innovation, leadership, or design, these are tools you need. Simple instructions, expert tips, templates, and images help you implement each tool or method.
Quickly and comprehensively familiarize yourself with the best design thinking tools
Select the appropriate warm-ups, tools, and methods
Explore new avenues of thinking
Plan the agenda for different design thinking workshops
Get practical application tips
The Design Thinking Toolbox help innovators master the early stages of the innovation process. It's the perfect complement to the international bestseller The Design Thinking Playbook.
About the Author
---
Michael Lewrick (Zurich, Switzerland) holds an MBA and PhD from Stanford, and is Head of Deloitte Labs. His research interests centers on the management issues related to the design, development and commercialization of technological and business model innovation. Patrick Link (Switzerland) is a lecturer at the University of Applied Science in Lucerne, Switzerland, teaching product management, marketing and collaboration management. He has12 years of practical experience as head of product management and in strategic planning, market analysis, strategic projects and as process engineer and project leader. Larry Leifer (Palo Alto, CA) is a professor of engineering at Stanford University and has been a key contributor to the design thinking movement in Silicon Valley and globally, though teaching and consulting, and through the world-renowned design firm IDEO, which was founded by one of his students. Larry's design thinking work is focused on tools to help design teams understand, support, and improve design practice and theory.
The Design Thinking Toolbox: A Guide to Mastering the Most Popular and Valuable Innovation Methods (Paperback)