The Winter of the Witch: A Novel (Winternight Trilogy #3) (Hardcover)
How to tell if a book is in stock...
"On Our Shelves Now" means yes, we have it on hand, order away!
"Ships in 1-5 days" means we sold our last copy, but more are easily available so still, order away!!
"Special Order" means it may be out of print or hard to get. Call the store to get more information from a Bookseller.

Not sure and want to double check? Be Savvy! Call and ask one of our booksellers for more details.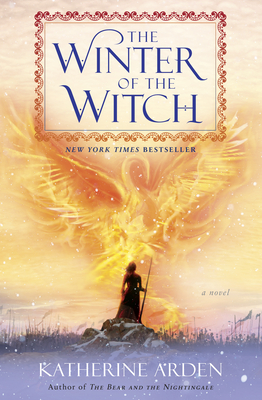 $28.00
Usually Ships in 1-5 Days
Other Books in Series
This is book number 3 in the Winternight Trilogy series.
January 2019 Indie Next List
---
"The Winter of the Witch takes place immediately after the events in The Girl in the Tower. The world of the old gods is fading, and a new religion is claiming the hearts of Vasya's people. Rus is on the brink of war, and Vasya, it seems, is up against the whole world. With the help of new allies, Vasya is determined to save all that she holds dear even if it means sacrificing everything. Vasya is the kind of character you cheer for, cry with, and roar alongside. 'Petrichor,' the word used to describe that sweet, earthy smell after it rains, is how I would describe the Winternight Trilogy. Arden's storytelling encompasses all your senses, so grab a hot mug of your favorite drink and settle in for Vasya's adventures in The Winter of the Witch."
— Jen Steele, Boswell Book Company, Milwaukee, WI
Description
---
NEW YORK TIMES BESTSELLER • Following their adventures in The Bear and the Nightingale and The Girl in the Tower, Vasya and Morozko return in this stunning conclusion to the bestselling Winternight Trilogy, battling enemies mortal and magical to save both Russias, the seen and the unseen.

"A tale both intimate and epic, featuring a heroine whose harrowing and wondrous journey culminates in an emotionally resonant finale."—Publishers Weekly (starred review)

NAMED ONE OF PASTE'S BEST FANTASY BOOKS OF THE DECADE

Vasilisa Petrovna is an unforgettable heroine determined to forge her own path. Her gifts and her courage have drawn the attention of Morozko, the winter-king, but it is too soon to know if this connection will prove a blessing or a curse.

Now Moscow has been struck by disaster. Its people are searching for answers—and for someone to blame. Vasya finds herself alone, beset on all sides. The Grand Prince is in a rage, choosing allies that will lead him on a path to war and ruin. A wicked demon returns, determined to spread chaos. Caught at the center of the conflict is Vasya, who finds the fate of two worlds resting on her shoulders. Her destiny uncertain, Vasya will uncover surprising truths about herself as she desperately tries to save Russia, Morozko, and the magical world she treasures. But she may not be able to save them all.

Praise for The Winter of the Witch

"Katherine Arden's Winternight Trilogy isn't just good—it's hug-to-your-chest, straight-to-the-favorites-shelf, reread-immediately good, and each book just gets better. The Winter of the Witch plunges us back to fourteenth-century Moscow, where old gods and new vie for the soul of Russia and fate rests on a witch girl's slender shoulders. Prepare to have your heart ripped out, loaned back to you full of snow and magic, and ripped out some more."—Laini Taylor

"Luxuriously detailed yet briskly suspenseful . . . a striking literary fantasy informed by Arden's deep knowledge."—Kirkus Reviews (starred review)
About the Author
---
Katherine Arden is the author of the national bestseller The Bear and the Nightingale and The Girl in the Tower. Born in Austin, Texas, she has studied Russian in Moscow, taught at a school in the French Alps, and worked on a farm in Hawaii. She currently lives in Vermont.
Praise For…
---
"[Katherine] Arden's gorgeous prose entwines political intrigue and feminist themes with magic and folklore to tell a tale both intimate and epic, featuring a heroine whose harrowing and wondrous journey culminates in an emotionally resonant finale."—Publishers Weekly (starred review)
 
"Katherine Arden's Winternight Trilogy isn't just good—it's hug-to-your-chest, straight-to-the-favorites-shelf, reread-immediately good, and each book just gets better. The Winter of the Witch plunges us back to fourteenth-century Moscow, where old gods and new vie for the soul of Russia and fate rests on a witch girl's slender shoulders. Prepare to have your heart ripped out, loaned back to you full of snow and magic, and ripped out some more."—Laini Taylor

"Luxuriously detailed yet briskly suspenseful . . . a striking literary fantasy informed by Arden's deep knowledge."—Kirkus Reviews (starred review)
 
"Visceral descriptions of battle, an atmospheric sense of place, and some truly heartbreaking moments of loss make this a gut-wrenching read, but there's ample hope and satisfaction to be found as Vasya chooses her own unique path to triumph."—Booklist

"Exciting, moving, and beautifully written, this is a story readers will savor."—Library Reads