How to tell if a book is in stock...
"On Our Shelves Now" means yes, we have it on hand, order away!
"Ships in 1-5 days" means we sold our last copy, but more are easily available so still, order away!!
"Special Order" means it may be out of print or hard to get. Call the store to get more information from a Bookseller.

Not sure and want to double check? Be Savvy! Call and ask one of our booksellers for more details.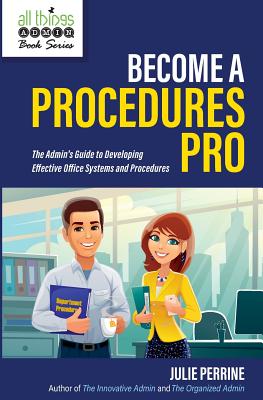 $9.95
Usually Ships in 1-5 Days
Description
---
Does taking time off lead to more stress than relaxation because you're worried what will (or won't) happen at the office while you're gone? Are you looking for a way to demonstrate the skills and value you contribute to your organization and team? Do you want to be ready to act if your dream job suddenly becomes available? If the answer is "yes," then you need to create your administrative procedures, and this book can help Become a Procedures Pro, the third book from All Things Admin Founder Julie Perrine, is a complete and easy-to-follow guide that features instructions for creating effective office systems and procedures, as well as the many benefits and uses for them. Some featured sections of the book include: - Getting started with documenting your systems and procedures - Why procedures make good business sense - Procedures' role in strengthening your team - The career benefits of procedures - The difference between systems and procedures - Getting started with systems development - Creating effective office procedures - Using checklists, forms, and templates - And many more.
About the Author
---
Julie Perrine is an administrative expert, trainer, author, and speaker. She is the founder and CEO of All Things Admin, a company dedicated to developing and providing innovative products, training, mentoring, and resources for administrative professionals worldwide.
Become A Procedures Pro: The Admin's Guide to Developing Effective Office Systems and Procedures (Paperback)