How to tell if a book is in stock...
"On Our Shelves Now" means yes, we have it on hand, order away!
"Ships in 1-5 days" means we sold our last copy, but more are easily available so still, order away!!
"Special Order" means it may be out of print or hard to get. Call the store to get more information from a Bookseller.

Not sure and want to double check? Be Savvy! Call and ask one of our booksellers for more details.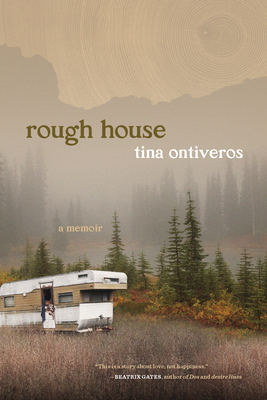 $18.95
Usually Ships in 1-5 Days
October 2020 Indie Next List
---
"rough house is an intensely moving and vivid story of author Tina Ontiveros' childhood in poverty-stricken small towns and logging camps of the Pacific Northwest during the '70s and '80s. Throughout her story, Ontiveros shares poignant memories of a heartrending and complex relationship with her volatile father as she earnestly tries to come to terms with the impact these experiences have had on who she is and who she is to become. Her loss and grief seem insurmountable at times, but her resolve and hope for a better future shine through. rough house is a gripping and emotional journey that should not be missed."
— Jennifer Green, Green Bean Books, Portland, OR
Winter 2020 Reading Group Indie Next List
---
"The story of Tina Ontiveros' childhood with her family, both before and after her parents divorced, is one of just barely scraping by — but in such a way that her life can inspire envy as well as sorrow. Her lumberjack dad's outsized personality and way of life is at once riveting, horrifying, and occasionally beautiful, and Ontiveros conveys this masterfully. Her depiction of and feeling for the rich Northwest outdoors is as affecting as that of her youth and coming of age in this world."
— Georgiana Blomberg, Magnolia's Bookstore, Seattle, WA
Description
---
Tina Ontiveros was born into timber on both sides of the family. Her mother spent summers driving logging trucks for her family's operation, and her father was the son of an itinerant logger, raised in a variety of lumber towns, as Tina herself would be.

A story of growing up in turmoil, rough house recounts a childhood divided between a charming, mercurial, abusive father in the forests of the Pacific Northwest and a mother struggling with small-town poverty. It is also a story of generational trauma, especially for the women—a story of violent men and societal restrictions, of children not always chosen and frequently raised alone.

Ontiveros's father, Loyd, looms large. Reflecting on his death and long absence from her life, she writes, "I had this ridiculous hope that I would get to enjoy a functional relationship with my father, on my own terms, now that I was an adult." In searingly honest, straightforward prose, rough house is her attempt to carve out this relationship, to understand her father and her family from an adult perspective.

While some elements of Ontiveros's story are universal, others are indelibly grounded in the logging camps of the Pacific Northwest at the end of the twentieth century, as the lumber industry shifted and contracted. Tracing her childhood through the working-class towns and forests of Washington and Oregon, Ontiveros explores themes of love and loss, parents and children, and her own journey to a different kind of adulthood.
 
About the Author
---
Tina Ontiveros is a writing instructor at Columbia Gorge Community College, book buyer at Klindt's Booksellers in The Dalles, and president of the Pacific Northwest Booksellers Association.
Praise For…
---
The title of Tina Ontiveros' new memoir, rough house, says it all, describing both the delight of her clever father and his menacing flip-side. Ontiveros pulls no punches in portraying a hardscrabble childhood in Pacific Northwest logging camps and her desperate love for a darkly complicated man.
-Debra Gwartney, author of I am a Stranger Here Myself
 

In spite of her struggle, there is something so plucky and honest about this book's narrator, you will be converted to a new view of your own troubles. You will look at your own life through the lens of this book, knowing with Ontiveros that "certain beauties can only be seen in the complication of hardship." This kid's got the goods to survive, and this book's got a big story for you. -Kim Stafford, author of Singer Come from Afar

"Tina Ontiveros's rough house describes, with nuance, in lucid and always descriptive, swift prose, the ways poverty shapes family attachments and how the love attachment in particular is more mysterious and agitating then we can fathom. Ontiveros's portrayal of Loyd, the father character, is complex, empathetic, and truthful—emblematic of the way men become debilitated by masculine shame and loneliness. Midway through, the narrator says: 'I'm not sure the vocabulary exists to explain what that felt like.' Ontiveros presents a richly emotional and revelatory vocabulary for family in rural America." —Jay Ponteri, author of LOBE and Wedlocked

"I read rough house in a single sitting, unable to break loose from the tension of what might happen next. It is the story of a childhood gone wrong in the wilds of the Pacific Northwest, twisted and tangled, before it is finally set to rights. Reminiscent of Raymond Carver if Carver had given a voice to the women and children faced with the troubles and misdeeds of men. From the myth of a larger-than-life father racked with addiction and rage, to a steady and clear-eyed mother who remained at the center of her childrens' orbiting lives, rough house chronicles a past that haunts a young girl who, like her father, is filled with a legacy of anger, but like her mother, is determined to reshape how her own story will end." —Deborah Reed, author of Pale Morning Light With Violet Swan, owner of Cloud & Leaf Bookstore, Manzanita, Oregon

"rough house is a deeply realized memoir about family, addiction, violence, molestation, and the ways regular people endure and overcome inter-generational family dysfunction." —Keenan Norris, author of Brother and the Dancer and By the Lemon Tree

"rough house is at once a study of a disappearing culture, and an exotic and achingly familiar meditation on family. Amidst an unforgettable world of sawdust and grime, snarling chainsaws and privation, Ontiveros is as vivid in her in description as she is unflinching in her honesty." —Jonathan Evison, author of Lawn Boy and West of Here
 
rough house: a memoir (Paperback)