How to tell if a book is in stock...
"On Our Shelves Now" means yes, we have it on hand, order away!
"Ships in 1-5 days" means we sold our last copy, but more are easily available so still, order away!!
"Special Order" means it may be out of print or hard to get. Call the store to get more information from a Bookseller.

Not sure and want to double check? Be Savvy! Call and ask one of our booksellers for more details.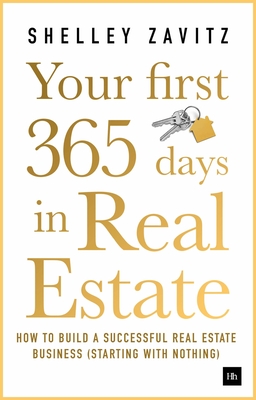 Please call 603-279-3905 for pricing
Special Order - Subject to Availability
Description
---
Your successful career in real estate starts here The first 365 days of working in real estate can be one of the most tumultuous times in your career - full of hard lessons, heart breaks and hard work. Just because you have a license, doesn't mean you have a business. But if you get the important stuff right, a great future is yours for the taking. This honest, eye-opening and completely practical insider's guide shows you how to get where you want to be - even if you're starting from nothing. Author and successful real estate agent Shelley Zavitz reveals in unprecedented detail: - what to expect the first year of your career - how to implement systems that will impact your business in the next 90 days - how to build a marketing plan in a digital world - how to work your contacts to start your referral pipeline - how mindset can make or break your business and what to do about it - why surrounding yourself with the right people is essential. Shelley shares her own story as a new real estate agent - including how she built a brand starting with a network of just four people in a totally new city. The book also comes complete with worksheets, hot lists and examples of great branding so that you can catapult your business into the fast lane right now. Your First 365 Days in Real Estate is the number-one resource for new agents in the industry - don't miss out on your potential as a realtor without it.
Your First 365 Days in Real Estate: How to Build a Successful Real Estate Business (Starting with Nothing) (Paperback)