How to tell if a book is in stock...
"On Our Shelves Now" means yes, we have it on hand, order away!
"Ships in 1-5 days" means we sold our last copy, but more are easily available so still, order away!!
"Special Order" means it may be out of print or hard to get. Call the store to get more information from a Bookseller.

Not sure and want to double check? Be Savvy! Call and ask one of our booksellers for more details.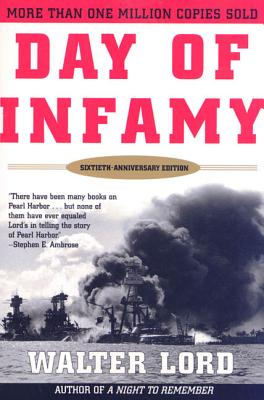 Description
---
A special 60th anniversary edition of the bestselling re-creation of the surprise attack on Pearl Harbor, by the author of A Night to Remember.
Sunday, December 7, 1941, was, as President Roosevelt said, "a date which will live in infamy." Day of Infamy is a fascinating account of that unforgettable day's events. In brilliant detail Walter Lord traces the human drama of the great attack: the spies behind it; the Japanese pilots; the crews on the stricken warships; the men at the airfields and the bases; the Japanese pilot who captured an island single-handedly when he could not get back to his carrier; the generals, the sailors, the housewives, and the children who responded to the attack with anger, numbness, and magnificent courage.
In piecing together the saga of Pearl Harbor, Lord traveled over fourteen thousand miles and spoke or corresponded with over five hundred individuals who were there. He obtained exclusive interviews with members of the Japanese attacking force and spent hundreds of hours with the Americans who received the blow -- not just the admirals and generals, but enlisted men and families as well. He visited each of the Hawaiian bases attacked and pored over maps, charts, letters, diaries, official files, newspapers, and some twenty-five thousand pages of testimony, discovering a wealth of information that had never before been revealed. Day of Infamy is an inspiring human document and the best account we have of one of the epic events in American history.
About the Author
---
Walter Lord was the author of several bestselling works of history, including Day of Infamy, a re-creation of the day of the attack on Pearl Harbor. He died in 2002.
Praise For…
---
"There have been many books on Pearl Harbor . . . but none of them have ever equaled Lord's in telling the story of Pearl Harbor." —Stephen E. Ambrose
"The carefully planned hour-by-hour recording of the surprise assault on Pearl Harbor . . . is as engrossing as the story of the sinking of the Titanic and more harrowing." —The Atlantic
Day of Infamy, 60th Anniversary: The Classic Account of the Bombing of Pearl Harbor (Paperback)