How to tell if a book is in stock...
"On Our Shelves Now" means yes, we have it on hand, order away!
"Ships in 1-5 days" means we sold our last copy, but more are easily available so still, order away!!
"Special Order" means it may be out of print or hard to get. Call the store to get more information from a Bookseller.

Not sure and want to double check? Be Savvy! Call and ask one of our booksellers for more details.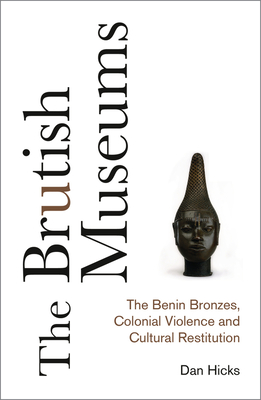 Description
---
Walk into any European museum today and you will see the curated spoils of Empire. They sit behind plate glass: dignified, tastefully lit. Accompanying pieces of card offer a name, date and place of origin. They do not mention that the objects are all stolen. Few artefacts embody this history of rapacious and extractive colonialism better than the Benin Bronzes - a collection of thousands of metal plaques and sculptures depicting the history of the Royal Court of the Obas of Benin City, Nigeria. Pillaged during a British naval attack in 1897, the loot was passed on to Queen Victoria, the British Museum and countless private collections. The story of the Benin Bronzes sits at the heart of a heated debate about cultural restitution, repatriation and the decolonisation of museums. In The Brutish Museum, Dan Hicks makes a powerful case for the urgent return of such objects, as part of a wider project of addressing the outstanding debt of colonialism.
About the Author
---
Dan Hicks is Professor of Contemporary Archaeology at the University of Oxford and Curator at the Pitt Rivers Museum. His award-winning research focuses on the restitution of African cultural heritage from Euro-American collections, focusing on the place of ideas of cultural whiteness in ongoing histories of colonial violence.
Praise For…
---
"A startling act of conscience. An important book which could overturn what people have felt about British history, empire, civilisation, Africa and African art. It is with books like this that cultures are saved, by beginning truthfully to face the suppressed and brutal past."
— Ben Okri
'If you care about museums and the world, read this book'
— New York Times 'Best Art Books' 2020
 'Hicks's urgent, lucid, and brilliantly enraged book feels like a long-awaited treatise on justice'
— Coco Fusco, New York Review of Books
'Dan, your words brought tears to my eyes. I salute you' 
— MC Hammer
"In his passionate, personal, and, yes, political account, Dan Hicks transforms our understanding of the looting of Benin. This book shows why being against violence now more than ever means repatriating stolen royal and sacred objects and restoring stolen memories"
— Nicholas Mirzoeff
The Brutish Museums: The Benin Bronzes, Colonial Violence and Cultural Restitution (Hardcover)