How to tell if a book is in stock...
"On Our Shelves Now" means yes, we have it on hand, order away!
"Ships in 1-5 days" means we sold our last copy, but more are easily available so still, order away!!
"Special Order" means it may be out of print or hard to get. Call the store to get more information from a Bookseller.

Not sure and want to double check? Be Savvy! Call and ask one of our booksellers for more details.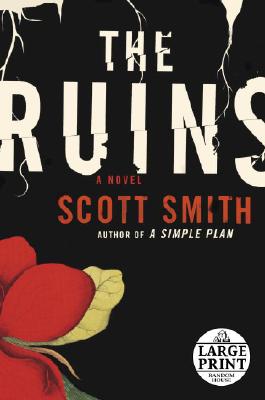 Description
---
Eerie, terrifying, unputdownable—Scott Smith's first novel since his best-selling A Simple Plan ("Simply the best suspense novel of this year—hell, of the 1990s"—Stephen King). The Ruins follows two American couples, just out of college, enjoying a pleasant, lazy beach holiday together in Mexico as, on an impulse, they go off with newfound friends in search of one of their group—the young German, who, in pursuit of a girl, has headed for the remote Mayan ruins, site of a fabled archeological dig.

This is what happens from the moment the searchers—moving into the wild interior—begin to suspect that there is an insidious, horrific "other" among them . . .
Praise For…
---
Praise for
Scott Smith's
The Ruins

"A classic horror story, told with mounting, detail. Smith spins it out relentlessly, piling chill on chill on chill. . . . What happens, and needless to say it's not good, is something readers will race page after flapping page to discover. When they do, they will find–well, better set aside eight or nine hours reading time, keep the lights on, and make sure the plants are still in their pots."
–Bill Bell, The Daily News

"Aficionados of the horror-suspense genre can start breathing again, but only for a minute: Author Scott Smith has returned with a new shocker. . . . The action is swift and the suspense is positively unflinching . . . Smith's nail-biting tension is a pleasure all its own and what fans of the genre expect. No let up and no let down–this stuff isn't for the faint of heart."
–Peter Pavia, New York Post

"A fast-paced suspense novel that grabs you and refuses to let go. . . Smith's characterization and timing–the ability to deliver one quick blow after antoher–makes the book so freakishly fun. . . . The story turns grotesque, but Smith's command of his characters and their demons is masterful. . . . The Ruins is chilling, an icy dissection of human nature in a hot, horrifying place."
–John Caniglia, The Cleveland Plain Dealer

"An exercise in unremitting tension . . . Smith writes in clear, vivid language with elegant sentences."
–Diane Scharper, The Baltimore Sun

"One of the most terrifying, creepy, riveting novels that will hit the bookstores this summer. . . . Smith sculpts each of the characters, making us care very much about what happens to these young, naive and sometimes selfish individuals. . . . The Ruins has a claustrophobic feel, which adds to the palpatations of suspense. The great outdoors might as well be a dark, dingy basement full of things that go bump in the night as Smith finds new ways to frighten with his setting."
–Oline H. Cogdill, The Sun-Sentinel

"Please, please let this be the most disturbing novel of the year. . . . Smith (A Simple Plan) writes with psychological acuity and real beauty, yet he doesn't pull any punches."
–Lev Grossman, Time

"Reading Scott Smith is like having a rope tied firmly round your middle, as you're pulled on protesting tiptoes toward a door marked DOOM. . . . Smith is a master of the 'if only' scenario, that most foolish and pungent form of regret . . . At its heart, The Ruins is an old-fashioned horror story, and it's the invasive, intuitive killer that provides the ice-water dread. . . . It's Thomas Harris meets Poe in a decidedly timely story: Smith has tapped into our anxieties about global warming, lethal weather, supergerms–our collective fear that nature is finally battling back–and given us a decidedly organic nightmare. Grade: A-.
–Gillian Flynn, Entertainment Weekly

"Once again, Smith (A Simple Plan) deftly explores psychological tension and insidious fears. A perfect beach read; just don't stray too far from the lifeguard."
–Library Journal

"A word of caution to readers, gentle and otherwise: Do not pick up a copy of Scott Smith's The Ruins if you have anything else you need to do in the next eight hours or so. Don't start this book if you're especially weak of stomach or nerves, and above all don't pick it up if you're not willing to tolerate some deviation from the usual conventions of thrillers and horror stories. . . . The Ruins is like all great genre fiction in its irresistible storytelling momentum, but in its lack of mercy, it's more like real life. . . . The Ruins is ruthlessly frank about how most of us really behave in extremis. The escalating nightmare of the group's fate evolves inexorably from their personalities, in a way reminiscent of Greek tragedy, so Smith couldn't get away with the flimsy figurines that populate more genre fiction. In The Ruins, all of the characters and their vexed interrrelationships are richly and carefully drawn because, in a way, they are the story. . . . Scott Smith shows us an aspect of ourselves and of human nature we'd rather not acknowledge. He's such a master, though, that it's impossible to look away.
–Laura Miller, Salon

"What Stephen King did for cars with Christine and for dogs with Cujo, Scott Smith does for creepy foliage (and yes, it's horrifying!) in his new thriller, The Ruins. It has been 13 years since Smith's thriller A Simple Plan rocked best-seller lists. Now he's back with a story so scary you may never want to go on vacation, or dig around in your garden, again. . . . If you love ABC's Lost and the novels of King and Thomas Harris, you'll love this book."
–Carol Memmott, USA Today

"The book of the summer. . . . No quietly building, Ruth Rendell-style suspense here; Smith intends to scare the bejabbers out of you, and succeeds. There are no chapters and no cutaways–The Ruins is your basic long scream of horror. It does for Mexican vacations what Jaws did for New England beaches in 1975. . . . It works well enough, I think, to be the book most people will be talking about this summer. Enjoy the beach . . . enjoy the books . . . and watch out for those Mexican ruins."
–Stephen King, Entertainment Weekly

"Scott Smith is a singularly gifted writer . . . The new book is here, and the question devotees of A Simple Plan will want answered is whether or not this book generates anything like Plan's harrowing suspense. The answer is yes. The Ruins is going to be America's literary shock-show this summer, doing for vacations in Mexico what Jaws did for beach weekends on Long Island. . . . Most of The Ruins's 300-plus pages is one long, screaming close-up of horror. There's no let-up, not so much as a chapter-break where you can catch your breath. . . . I found Scott Smith's refusal to look away heroic . . . It's the trappings of horror and suspense that will make the book a best seller, but its claim to literature lies in its unflinching naturalism. It's no Heart of Darkness, but at its suffocating, terrifying, claustrophobic best, it made me think of Frank Norris. Not a bad comparison, at that. One only hopes Mr. Smith won't stay away so long next time."
–Stephen King, Amazon.com

"At long last, Smith follows up his bestselling first novel, A Simple Plan, with a stunning horror thriller. . . . Smith builds suspense through the slow accretion of telling details . . . Eerie . . . Compelling."

–Publishers Weekly (starred review)


Praise for A Simple Plan by Scott Smith:

"Simply the best suspense novel of this year—hell, of the 1990s. Think of James M. Cain, think of Thomas Harris—even think of Jane Smiley's A Thousand Acres, to which Smith's book bears a weird thematic resemblance . . . think of whomever you want, but read this book. Better than any 'best-selling' suspense novel to hit the lists since Silence of the Lambs."
—Stephen King

"[It] fulfills every expectation of a novel of suspense, leading the reader on a wild exploration of the banality of evil . . . Smith demonstrates the eerie ease with which the mundane can descend to the unthinkable . . . Smith's imagination never palls.
—Publishers Weekly (starred review)

"The reader is drawn along by fascination. It's like watching a train wreck: there is nothing to be done, but it is impossible to turn away . . . an almost tragic tale of pure greed . . . as compelling [as] The Treasure of the Sierra Madre."
—Chicago Tribune

"The year's finest literary shivers . . . A beautifully controlled piece of writing, all the more impressive for being the debut of its author."
—Entertainment Weekly

"A Simple Plan works a devastating variation on the idea of the banality of evil . . . Beautifully controlled and disturbing . . . Cunningly imagined."
—The New York Times Book Review

"It is remarkable to read such a terrifying work expressed in such a seductively reasonable voice. A work of singular power, carrying within it a moral that might well be a metaphor for a society in love with wretched excess."
—The Washington Post

"Electrifying . . . An eerily flat confessional whose horror is only deepened by its flashes of tenderness. Think of a backwater James M. Cain, or a contemporary midwestern Unforgiven–and don't think about getting any sleep tonight."
—Kirkus Reviews

"Astonishing."
—Vanity Fair

"Its unveiling of a conspiracy of greed gone wrong couldn't be more finely calibrated. Its lithe rendering of how partners-in-crime become predators bent on destroying one another recalls B. Traven's The Treasure of the Sierra Madre or the better work of Jim Thompson (The Grifters, After Dark, My Sweet)."
—The Boston Globe

"That rare and satisfying combination: a compulsive thriller which also happens to be a beautifully-written and original work of art."
—Robert Harris
The Ruins (Large Print / Hardcover, Large Print)