How to tell if a book is in stock...
"On Our Shelves Now" means yes, we have it on hand, order away!
"Ships in 1-5 days" means we sold our last copy, but more are easily available so still, order away!!
"Special Order" means it may be out of print or hard to get. Call the store to get more information from a Bookseller.

Not sure and want to double check? Be Savvy! Call and ask one of our booksellers for more details.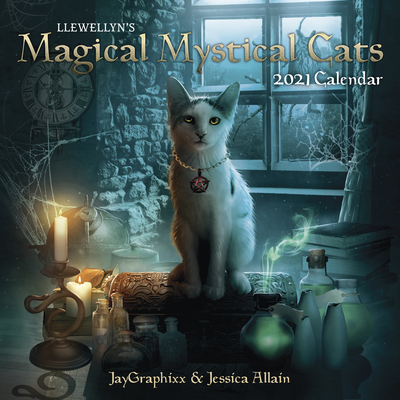 Please call 603-279-3905 for pricing
Description
---
A perfect fusion of witchcraft and cats, this marvelous wall calendar captures the mischievous and mystical energy of felines. Llewellyn's 2021 Magical Mystical Cats Calendar showcases twelve stunning illustrations by Jessica Allain and Jay Graphixx, two talented artists who bring these cats to life as they work and play with magic. You'll enjoy good fortune and better spellcasting all year long. Includes major US, UK, and Canadian holidays and moon phases.
About the Author
---
Llewellyn Publications has grown and expanded into new areas of personal growth and transformation since it began as the Portland School of Astrology in 1901. Along with the strong line of astrology books the company was founded upon, Llewellyn publishes books on everything from alternative health and healing, Wicca and Paganism, to metaphysics and the paranormal-and since 1994 has published a growing list of Spanish-language titles. Llewellyn has long been know as one of America's leading publishers of New Age books, producing a wide variety of valuable tools for transformation of the mind, body and spirit. Reach for the Moon-and discover that self-help and spiritual growth is what Llewellyn is all about.
Llewellyn's 2021 Magical Mystical Cats Calendar (Wall)