How to tell if a book is in stock...
"On Our Shelves Now" means yes, we have it on hand, order away!
"Ships in 1-5 days" means we sold our last copy, but more are easily available so still, order away!!
"Special Order" means it may be out of print or hard to get. Call the store to get more information from a Bookseller.

Not sure and want to double check? Be Savvy! Call and ask one of our booksellers for more details.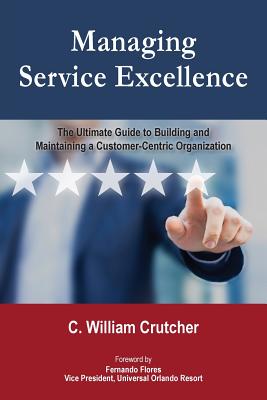 $24.95
Usually Ships in 1-5 Days
Description
---
What is the one thing that all businesses depend on? Customers. What could be more important, then, to your organization's enduring success than a solid, well-planned and executed customer service strategy--a philosophy and culture that show customers that they are the reason you are in business in the first place? As this book reveals, we are all in the business of serving customers, whether they be external or internal to your organization. It therefore behooves each of us to understand and practice the principles of service excellence.
Managing Service Excellence is a comprehensive guidebook for creating and maintaining a customer-centric organization. Through chapters focusing on specific skill sets, real-world examples, and review questions, this book details how to create a satisfied customer and keep them for life. In clear, accessible language, Crutcher covers every aspect of service--from effective planning, communication, teaming, and coaching strategies, to managing change, strengthening critical thinking and problem-solving skills, and leveraging customer feedback to drive business improvement and innovation. With extensive experience in C-level and higher education roles, Crutcher helps us understand what customers really want and need, what drives their individual behavior, and how to best customize our service approach accordingly.
In a world where technology is constantly changing the business landscape, this book serves as a timeless resource on the fundamentals of customer service. There will never be a substitute for the competitive advantage that integrity, competence, and relationship-building provide. As Crutcher writes, "If you build it, they will come" may work in the movies, but in real life, success requires a consistent effort in the field of customer service. Managing Service Excellence provides the keys.
Managing Service Excellence: The Ultimate Guide to Building and Maintaining a Customer-Centric Organization (Paperback)