How to tell if a book is in stock...
"On Our Shelves Now" means yes, we have it on hand, order away!
"Ships in 1-5 days" means we sold our last copy, but more are easily available so still, order away!!
"Special Order" means it may be out of print or hard to get. Call the store to get more information from a Bookseller.

Not sure and want to double check? Be Savvy! Call and ask one of our booksellers for more details.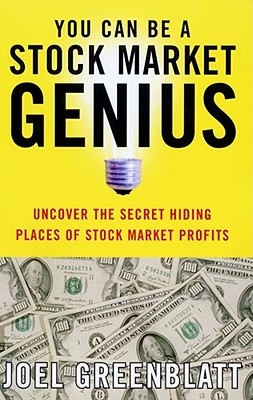 Description
---
A comprehensive and practical guide to the stock market from a successful fund manager—filled with case studies, important background information, and all the tools you'll need to become a stock market genius.

Fund manager Joel Greenblatt has been beating the Dow (with returns of 50 percent a year) for more than a decade. And now, in this highly accessible guide, he's going to show you how to do it, too. You're about to discover investment opportunities that portfolio managers, business-school professors, and top investment experts regularly miss—uncharted areas where the individual investor has a huge advantage over the Wall Street wizards. Here is your personal treasure map to special situations in which big profits are possible, including:

· Spin-offs
· Restructurings
· Merger Securities
· Rights Offerings
· Recapitalizations
· Bankruptcies
· Risk Arbitrage
About the Author
---
Joel Greenblatt is the founder and a managing partner of Gotham Capital, a private investment partnership that has achieved 40% annualized returns since its inception in 1985. He is a professor on the adjunct faculty of Columbia Business School, the former chairman of the board of a Fortune 500 company, the cofounder of ValueInvestorsClub.com, and the author of You Can Be a Stock Market Genius. Greenblatt holds a BS and an MBA from the Wharton School.
Praise For…
---
The Wall Street Journal Joel Greenblatt can indeed teach you about the market and how fortunes can be made there.

Andrew Tobias bestselling author of The Only Investment Guide You'll Ever Need I hope few investors will read this smart, sophisticated, fun book. I don't want competition profiting from its very real insights.

Alan C. "Ace" Greenburg Chairman of the Board, Bear Stearns Joel is my kind of guy -- very, very long on common sense. This book is great!
You Can Be a Stock Market Genius: Uncover the Secret Hiding Places of Stock Market Profits (Paperback)