The Other People: A Novel (Large Print / Paperback)
How to tell if a book is in stock...
"On Our Shelves Now" means yes, we have it on hand, order away!
"Ships in 1-5 days" means we sold our last copy, but more are easily available so still, order away!!
"Special Order" means it may be out of print or hard to get. Call the store to get more information from a Bookseller.

Not sure and want to double check? Be Savvy! Call and ask one of our booksellers for more details.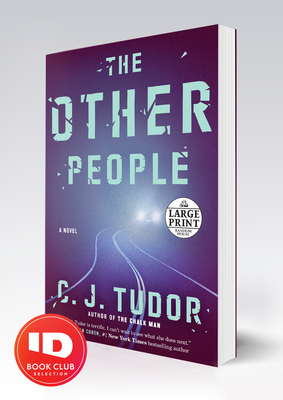 $29.00
Usually Ships in 1-5 Days
Description
---
A gripping thriller about a man's quest for the daughter no one else believes is still alive, from the acclaimed author of The Chalk Man and The Hiding Place.

An ID Book Club Selection • "C. J. Tudor is terrific. I can't wait to see what she does next."—Harlan Coben, #1 New York Times bestselling author

Q: Why are you called the Other People?
A: We are people just like you. People to whom terrible things have happened. We've found solace not in forgiveness or forgetting. But in helping each other find justice.
 
Driving home one night, stuck behind a rusty old car, Gabe sees a little girl's face appear in its rear window. She mouths one word: Daddy. It's his five-year-old daughter, Izzy. He never sees her again.
 
Three years later, Gabe spends his days and nights traveling up and down the highway, searching for the car that took his daughter, refusing to give up hope, even though most people believe she's dead. 
 
When the car that he saw escape with his little girl is found abandoned with a body inside, Gabe must confront not just the day Izzy disappeared but the painful events from his past now dredged to the surface. 
 
Q: What sort of justice?
A: That depends on the individual. But our ethos is a punishment that fits the crime.
 
Fran and her daughter, Alice, also put in a lot of miles on the road. Not searching. Running. Because Fran knows what really happened to Gabe's daughter. She knows who is responsible. And she knows what they will do if they ever catch up to her and Alice.
 
Q: Can I request to have someone killed?
A: If your Request is acceptable, and unless there are exceptional circumstances, we fulfill all Requests.
About the Author
---
C. J. Tudor is the author of The Chalk Man and The Hiding Place, and lives in England with her partner and daughter. Over the years she has worked as a copywriter, television presenter, voice-over artist and dog walker. She is now thrilled to be able to write full-time, and doesn't miss chasing wet dogs through muddy fields all that much.
Praise For…
---
"Eerie."—Marilyn Stasio, The New York Times Book Review

"The Other People will delight you with the same creepy atmosphere you expect. . . . At more than one point while reading, a person might be tempted to access the dark web and see if groups like this exist. Although who knows what might happen once they've got your data? Shudder. . . . What will keep readers engaged is the menace of the titular conceit and the authenticity of Gabe Forman's grief, easily recognized even by those who [have] not experienced such hellacious loss."—NPR

"The Other People will keep you up all night, reading frantically and searching for answers. Warning: This fast-paced, engaging story is so spooky, you might need a nightlight." —HelloGiggles

"Hugely enjoyable and deliciously creepy . . . I was hooked from its gripping opening, all the way through its many twists and turns. You may think you've got it worked out, but C. J. Tudor is always several steps ahead. She is a brilliant storyteller."—Alex Michaelides, New York Times bestselling author of The Silent Patient

"The Other People is a creepy, intense novel that drew me right in and never let go. C. J. Tudor's books keep getting better and better, and this one won't let you stop reading until the very last page!"—Samantha Downing, author of the international bestseller My Lovely Wife

"C. J. Tudor has done it again. . . . A mesmerizingly chilling and atmospheric page-turner."—JP Delaney, New York Times bestselling author of The Girl Before

"The Other People is tight as a straitjacket, diabolically clever, and propulsive as a roller coaster. If you like twisty thrillers that leave you guessing till the very last page, this is a must-read."—Alma Katsu, author of The Hunger and The Deep

"Like no book you've read before. It's the definition of a nail-biting page-turner and sets the bar high for every other thriller this year. Tudor remains at the top of her game. Tightly plotted and utterly unpredictable, The Other People proves that Tudor is the queen of the cliffhanger."—John Marrs, internationally bestselling author of The Passengers and The One

"Chilling, moving, and disquieting, The Other People proves C. J. Tudor is a force to be reckoned with. With nuanced characters and a satisfying, intricately braided slow-burn that builds to a heart-pounding finish, this novel gripped me, surprised me—and stuck with me long after the final page."—Andrea Bartz, author of The Lost Night

"Hugely enjoyable . . . I was hooked from its gripping opening, all the way through its many twists and turns. . . . C. J. Tudor is always several steps ahead. A brilliant storyteller." —Alex Michaelides, New York Times bestselling author of The Silent Patient

"A mesmerizingly chilling and atmospheric page-turner." —JP Delaney, New York Times bestselling author of The Girl Before