How to tell if a book is in stock...
"On Our Shelves Now" means yes, we have it on hand, order away!
"Ships in 1-5 days" means we sold our last copy, but more are easily available so still, order away!!
"Special Order" means it may be out of print or hard to get. Call the store to get more information from a Bookseller.

Not sure and want to double check? Be Savvy! Call and ask one of our booksellers for more details.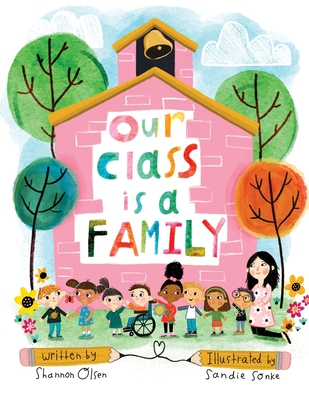 Please call 603-279-3905 for pricing
Special Order - Subject to Availability
Description
---
Teachers do so much more than just teach academics. They build a sense of community within their classrooms, creating a home away from home where they make their students feel safe, included, and loved.
With its heartfelt message and colorfully whimsical illustrations, "Our Class is a Family" is a book that will help build and strengthen that class community. Kids learn that their classroom is a place where it's safe to be themselves, it's okay to make mistakes, and it's important to be a friend to others. When hearing this story being read aloud by their teacher, students are sure to feel like they are part of a special family.
And currently, during such an unprecedented time when many teachers and students are not physically in the classroom due to COVID-19 school closures, it's more important than it's ever been to give kids the message that their class is a family. Even at a distance, they still stick together.
"Family isn't always your relatives. It's the ones who accept you for who you are. The ones who would do anything to see you smile, and who love you no matter what." -Unknown.
Our Class is a Family (Paperback)