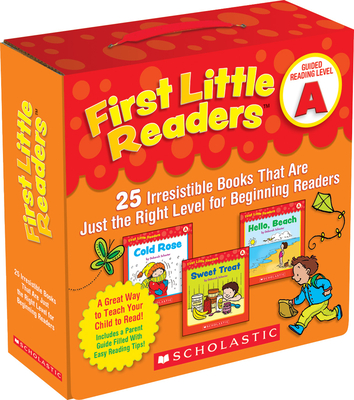 $20.99
Usually Ships in 1-5 Days
Description
---
Jumpstart reading success with this big collection of motivating storybooks correlated with Guided Reading Level A. Most pages of these full-color storybooks feature just one line of simple, repetitive text to help children learn to read with ease and confidence. Includes a tip-filled parent guide. A great value!
Includes these 25 titles:
1. Hello, Beach
2. What Can I See?
3. Cold Rose
4. Birthday Surprise
5. Fun with Mud
6. I Like School!
7. What is for Supper?
8. Fun at the Playground
9. Look What I Found!
10. What Shines?
11. Bubbles
12. What Do I Need?
13. Where is Petey?
14. HIDE AND SEEK
15. HATS, HATS, HATS
16. SHAPES FOR LUNCH
17. WINTER IS HERE
18. WHAT IS READ
19. I LIKE STRIPES
20. WHEN NIGHT COMES
21. SWEET TREAT
22. I CAN DRAW!
23. ALMOST SPRING
24. HURRY UP! HURRY UP!
25. CLASS PETS
Includes
• 25 full color, 8-page books
• 4-page parent guide
• Sturdy storage box
About the Author
---
Deborah Schecter is a writer and editor of books for educators and children. Some of her previous Scholastic titles include Follow-the-Directions Art: Nursery Rhymes, Follow-the-Directions: Easy Origami, Teaching Reading and Writing With Nursery Rhymes, Sight Word Manipulatives for Reading Success, and My First Little Readers: Level A.
First Little Readers: Guided Reading Level A (Parent Pack): 25 Irresistible Books That Are Just the Right Level for Beginning Readers (Paperback)
How to tell if a book is in stock...
"On Our Shelves Now" means yes, we have it on hand, order away!
"Ships in 1-5 days" means we sold our last copy, but more are easily available so still, order away!!
"Special Order" means it may be out of print or hard to get. Call the store to get more information from a Bookseller.

Not sure and want to double check? Be Savvy! Call and ask one of our booksellers for more details.