How to tell if a book is in stock...
"On Our Shelves Now" means yes, we have it on hand, order away!
"Ships in 1-5 days" means we sold our last copy, but more are easily available so still, order away!!
"Special Order" means it may be out of print or hard to get. Call the store to get more information from a Bookseller.

Not sure and want to double check? Be Savvy! Call and ask one of our booksellers for more details.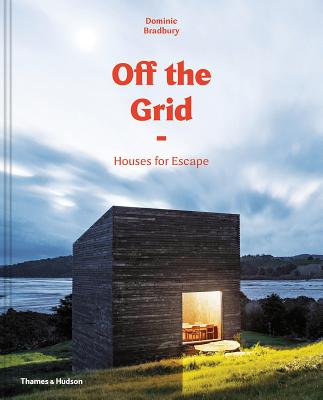 Description
---
The ultimate escapist collection of environmentally sustainable houses, cabins, and retreats, this book circles the globe to find the best eco-architecture in the most stunning and remote locations. 
The imperative to reduce our carbon footprint and focus on renewable energy is having a profound impact on our daily lives and the way we think about living spaces. Surveying some of the world's most innovative off-grid homes, Off the Grid reveals the creative architecture and cutting-edge technologies that are redefining where and how we live—enabling us to escape to some of the most extraordinary and secluded natural environments on the planet.
Dominic Bradbury tells the story of how innovative architects have made everyday living in the most wild and remote locations of the United States, Europe, Asia, and Australia not only feasible, as all of the homes featured are largely self-sustaining in terms of energy, water, and in some cases food, but also a rewarding and tempting reality.
From snowbound cabins in the far Northern Hemisphere to coastal retreats that can only be accessed by boat, this fully illustrated overview explains the diverse ways in which architects are tackling extreme climates, remoteness, and sustainability challenges to enable a new way of life that is both liberating and responsible, wherever on Earth you happen to be.
About the Author
---
Dominic Bradbury is a journalist and writer specializing in architecture and design. He writes for many magazines and newspapers in the UK and internationally, including Wallpaper*, World of Interiors, House & Garden, Vogue Living, The Telegraph, The Times, and the Financial Times. His many books include Mid-Century Modern Complete, The Iconic Interior, Mountain Modern, Waterside Modern,  and most recently, Off the Grid: Houses for Escape.
Praise For…
---
Full of isolated, remote homes that generate their own power—or do without it—the book has a contemplative vibe. Many of the projects are experimental in nature, designed to innovate around sustainability methods… Gorgeous photographs highlight the rugged natural landscapes that off-the-gridders are lucky enough to call home.

Inspiring ... If you're interested in going down the alternative living route, this is your handbook.

"If you ever dreamed about a new life in a stunning home set in one of the world's most picturesque places, this book is for you... Crucially, each [home featured in the book] is self-sufficient or nearly self-sufficient, bucking the notion that green design can't be beautiful."

Going off the grid is often easier said than done, since electricity, water, and gas may sound like shackles only until you don't have them. Yet the remote retreats offered in this book involve moderate to limited compromises in comfort and considerable design excellence… The author's sustainable credo that 'any kind of construction should carry with it a degree of responsibility' is well borne out, and his selection demonstrates that this ethos requires no diminution of quality.

A world tour of remote homes that are also ecologically aware.

This international selection—ranging from Thoreauvian writer's cabins to two-story barns with acres of glazing—offers bracing independence from utilities and the chance of a digital detox.
Off the Grid: Houses for Escape (Hardcover)