How to tell if a book is in stock...
"On Our Shelves Now" means yes, we have it on hand, order away!
"Ships in 1-5 days" means we sold our last copy, but more are easily available so still, order away!!
"Special Order" means it may be out of print or hard to get. Call the store to get more information from a Bookseller.

Not sure and want to double check? Be Savvy! Call and ask one of our booksellers for more details.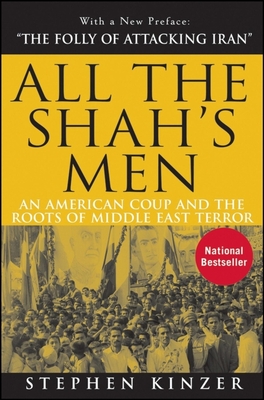 Description
---
With a thrilling narrative that sheds much light on recent events, this national bestseller brings to life the 1953 CIA coup in Iran that ousted the country's elected prime minister, ushered in a quarter-century of brutal rule under the Shah, and stimulated the rise of Islamic fundamentalism and anti-Americanism in the Middle East. Selected as one of the best books of the year by the Washington Post and The Economist, it now features a new preface by the author on the folly of attacking Iran.
About the Author
---
Stephen Kinzer is an award-winning foreign correspondent who has worked in more than fifty countries. He has been New York Times bureau chief in Istanbul, Berlin, and Managua, Nicaragua. His books include "Overthrow: America's Century of Regime Change from Hawaii to Iraq" and "Crescent and Star: Turkey Between Two Worlds."
All the Shah's Men: An American Coup and the Roots of Middle East Terror (Paperback)