How to tell if a book is in stock...
"On Our Shelves Now" means yes, we have it on hand, order away!
"Ships in 1-5 days" means we sold our last copy, but more are easily available so still, order away!!
"Special Order" means it may be out of print or hard to get. Call the store to get more information from a Bookseller.

Not sure and want to double check? Be Savvy! Call and ask one of our booksellers for more details.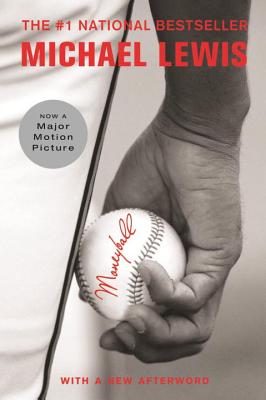 Description
---
"This delightfully written, lesson-laden book deserves a place of its own in the Baseball Hall of Fame." —Forbes
Moneyball is a quest for the secret of success in baseball. In a narrative full of fabulous characters and brilliant excursions into the unexpected, Michael Lewis follows the low-budget Oakland A's, visionary general manager Billy Beane, and the strange brotherhood of amateur baseball theorists. They are all in search of new baseball knowledge—insights that will give the little guy who is willing to discard old wisdom the edge over big money.
About the Author
---
Michael Lewis is the best-selling author of Liar's Poker, Moneyball, The Blind Side, The Big Short, The Undoing Project, and The Fifth Risk. He lives in Berkeley, California, with his wife and three children.
Praise For…
---
The best book of the year, [Moneyball] already feels like the most influential book on sports ever written. If you're a baseball fan, Moneyball is a must.

— People

Lewis has hit another one out of the park…You need know absolutely nothing about baseball to appreciate the wit, snap, economy and incisiveness of [Lewis's] thoughts about it.
— Janet Maslin - New York Times

Moneyball is the best business book Lewis has written. It may be the best business book anyone has written.

— Mark Gerson - Weekly Standard

By playing Boswell to Beane's Samuel Johnson, Lewis has given us one of the most enjoyable baseball books in years.
— Lawrence S. Ritter - New York Times Book Review

It's a sports story that's actually a business story that's also a story about preconceptions. Plus, Michael Lewis's writing is so clear, readable, and highly entertaining.
— Charles Yu - Literary Hub

Ebullient, invigorating…Provides plenty of action, both numerical and athletic, on the field and in the draft-day war room.
— Lev Grossman - Time

A journalistic tour de force.
— Richard J. Tofel - Wall Street Journal

Michael Lewis's beautiful obsession with the idea of value has once again yielded gold…Moneyball explains baseball's startling new insight; that for all our dreams of blasts to the bleachers, the sport's hidden glory lies in not getting out.

— Garry Trudeau

I understood about one in four words of Moneyball, and it's still the best and most engrossing sports book I've read in years. If you know anything about baseball, you will enjoy it four times as much as I did, which means that you might explode.

— Nick Hornby - The Believer
Moneyball: The Art of Winning an Unfair Game (Paperback)