How to tell if a book is in stock...
"On Our Shelves Now" means yes, we have it on hand, order away!
"Ships in 1-5 days" means we sold our last copy, but more are easily available so still, order away!!
"Special Order" means it may be out of print or hard to get. Call the store to get more information from a Bookseller.

Not sure and want to double check? Be Savvy! Call and ask one of our booksellers for more details.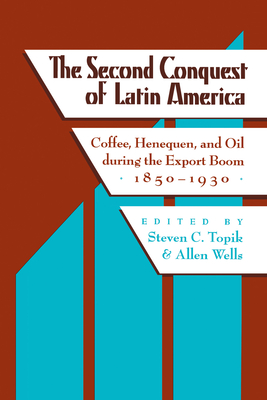 Please call 603-279-3905 for pricing
Usually Ships in 1-5 Days
Description
---
Between 1850 and 1930, Latin America's integration into the world economy through the export of raw materials transformed the region. This encounter was nearly as dramatic as the conquistadors' epic confrontation with Native American civilizations centuries before. An emphasis on foreign markets and capital replaced protectionism and self-sufficiency as the hemisphere's guiding principles. In many ways, the means employed during this period to tie Latin America more closely to western Europe and North America resemble strategies currently in vogue. Much can be learned from analyzing the first time that Latin Americans embraced export-led growth.
This book focuses on the impact of three key export commodities: coffee, henequen, and petroleum. The authors concentrate on these rather than on national economies because they illustrate more concretely the interaction between the environment, natural and human resources, and the world economy. By analyzing how different products spun complex webs of relationships with their respective markets, the essays in this book illuminate the tensions and contradictions found in the often conflictive relationship between the local and the global, between agency and the not-so-invisible hand. Ultimately, the contributors argue that the results of the "second conquest" were not one-sided as Latin Americans and foreigners together forged a new economic order--one riddled with contradictions that Latin America is still attempting to resolve today.
The Second Conquest of Latin America: Coffee, Henequen, and Oil During the Export Boom, 1850-1930 (Ilas Critical Reflections on Latin America) (Paperback)